HCM CITY  The HCM City Ballet Symphony Orchestra and Opera (HBSO) will perform classical masterpieces by Russian composers at the city's Opera House on June 11.
"A Night of Classical Music" will open with Overture from The Tsar's Bride, an opera in four acts by Nikolai Rimsky-Korsakov, his tenth opera.
The opera's first performance was held at the Moscow theatre of the Private Opera of S.I. Mamontov in 1899.
Rimsky-Korsakov was known as a master of orchestration. His best known works are orchestral compositions Capriccio Espagnol and Russian Easter Festival Overture, and symphonic suite Scheherazade. He composed 15 operas.
The night will continue with an excerpt from Prince Igor, a four-act opera written and composed by Alexander Borodin, who adapted the libretto from the Ancient Russian epic The Lay of Igor's Host.
The opera, which recounts Prince Igor's military campaign against the Polovtsians, was edited and finished by Rimsky-Korsakov and Alexander Glazunov after Borodin's death in 1887.
It was first performed at the Mariinsky Theatre in St Petersburg in 1890.
The concert will also include Georgy Sviridov's orchestral composition The Snow Storm, which was originally written in 1964 for the film of the same name.
After the interval, there will be an orchestral work, Festive Overture, composed by Dmitri Shostakovich in 1954 as a celebration of the 37th anniversary of the October Revolution.
The composition was also chosen as the signature musical theme of the 1980 Summer Olympics in Moscow.
The concert will end with Concerto for Coloratura Soprano and Orchestra by Reinhold Gliere and Symphony No 1, also known as the "Classical" by Sergei Prokofiev.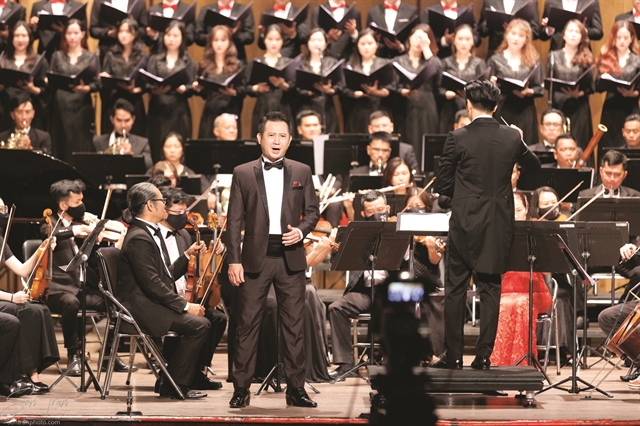 The performances will highlight talents of the HBSO Symphony Orchestra: tenor Phạm Trang and soprano Phạm Khánh Ngọc, runner-up at the SLO- ASEAN Vocal Competition in Singapore in 2016.
Trần Nhật Minh, who holds a Master of Music in conducting from Moscow's Tchaikovsky Conservatory, will wield the baton.
The concert will begin at 8pm at 7 Lam Sơn Square in District 1. Tickets can be purchased at the venue. VNS
Read More :
-
Reduce Hair Loss with PURA D'OR Gold Label Shampoo
-
Castor Oil Has Made a "Huge" Difference With Hair and Brow Growth
-
Excessive hair loss in men: Signs of illness that cannot be subjective
-
Dịch Vụ SEO Website ở Los Angeles, CA: đưa trang web doanh nghiệp bạn lên top Google