Thanh Nga
HÀ NỘI — The SEA Games 31 might be over, but it has left a lasting impression on Filipino pool legend Efren Reyes thanks to the love of the fans and the success that Việt Nam found in hosting the Games.
The 67-year-old player was very surprised by the enthusiasm of Vietnamese audiences for him at the Games. He became the centre of billiards events and when he competed Hà Đông Gymnasium was full of spectators.
Reyes was probably the only athlete at the Games that got as loud a cheer from Vietnamese fans as athletes from the host nation –  all adore him.
"The level of Vietnamese players has improved a lot, they are playing better and better. In Việt Nam, there are many professional players in the carom categories. I'd like to come back to Việt Nam and I'd like the SEA Games to be hosted here," Reyes said.
Reyes said he didn't imagine so many Vietnamese fans would come to see him compete.
"I realise the love of the fans. I will keep these impressions in my heart forever and never forget them," Reyes said.
At this year's Games, Reyes, who was regarded as one of the world's finest players in his heyday, competed in the men's three-cushion carom and men's one-cushion carom categories.
In the one-cushion carom event, the Filipino won bronze, while he met difficulties in the battle against world No 3 Trần Quyết Chiến of Việt Nam in the quarter-finals.
Chiến said, even though he was the winner, Reyes deserved respect as he is one of the world's most revered billiards talents. After his win, Chiến immediately hung his head to the Filipino player.
Chiến's action somewhat surprised Reyes because, before that, Reyes came forward and intended to shake Chiến's hand. Chiến's gesture received applause from the fans. This is also a beautiful image, honouring the noble spirit of sport.
Reyes' performances at the Games 31 were not as expected. Age seemed to have a big influence on him. However, fans seemed not to care about the results but just wanted to see their idol perform once.
Due to a large number of fans, the organisers sent police officers to escort him to his car safely. He waved regally as he left the venue, to cheers of "I love you!" from fans.
Tuấn Anh, a fan who lives in Hà Đông, said: "Hà Nội is a place that loves billiards so Reyes will certainly be the idol of many Hanoians. I watched him play a lot on the internet, so I was determined to come here to see him. He only played two events, but for me, seeing him was enough."
Reyes definitely felt the warmth of Vietnamese fans. He said that he likes to eat peaches and sour soup in Việt Nam. He also likes to dress like Vietnamese people.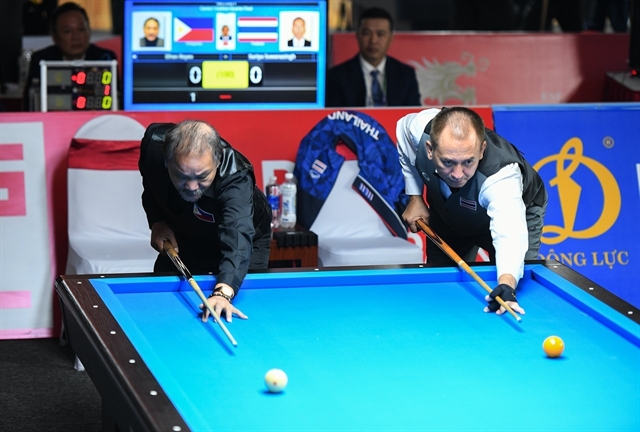 In a professional career spanning nearly 40 years, the Filipino player has won more than 100 international titles, including three US Open championships and four world championships. He was also honoured as the best player in 1995. He has been inducted into the Billiards Hall of Fame in the US.
Reyes had the most seniority at SEA Games as the oldest athlete in this year's Games. He has been attending the SEA Games since 1987.
At the regional biggest sports event in Hà Nội, Reyes did not play the pool event, his favourite. Instead, he only played the only one and three-cushion carom as no one else in the Philippines could.
Reyes was known for his out-of-the-ordinary thinking and performances. In particular, he never loses his temper. That's why he was nicknamed "the wizard" or "the magician".
Reyes said he did not remember how much he had earned from the billiards and once won more than US$200,000 in a match in the US.
On the evening of May 21, Reyes continued to prove his strong draw when attending a billiards event in Hà Nội after completing his journey at the Games.
Reyes received tremendous attention. Hundreds of fans were present early, listening attentively to his musings and waiting for his performance.
Also at the event, a representative of the Việt Nam Billiards & Snooker Federation said that the federation would invite Filipino players to return to Việt Nam for a friendly event in the near future. Fans will have a chance to see their idol again.
Read More :
-
Reduce Hair Loss with PURA D'OR Gold Label Shampoo
-
Castor Oil Has Made a "Huge" Difference With Hair and Brow Growth
-
Excessive hair loss in men: Signs of illness that cannot be subjective
-
Dịch Vụ SEO Website ở Los Angeles, CA: đưa trang web doanh nghiệp bạn lên top Google