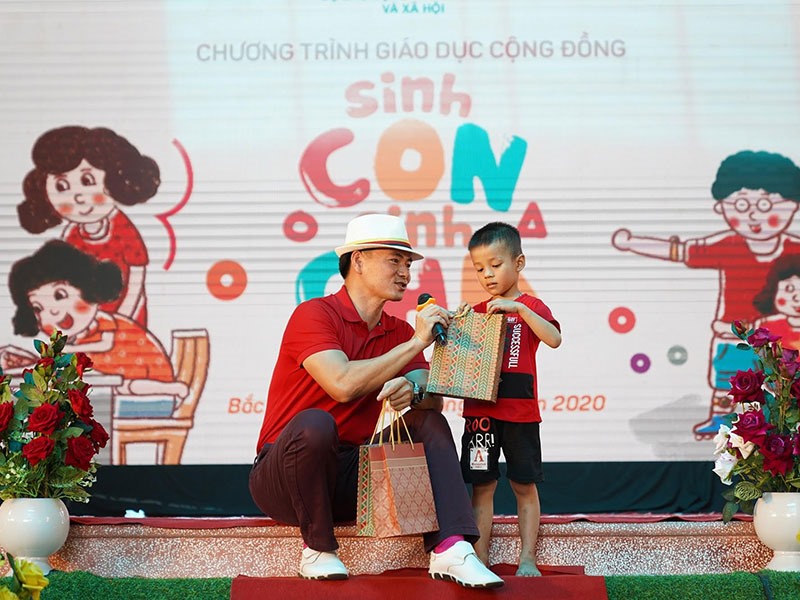 The goal of the Sinh Con, Sinh Cha programme is to share knowledge, experience and skills in raising children in the first years of life. — Photo courtesy of Sinh Con, Sinh Cha
HÀ NỘI — A community education programme has achieved remarkable results in improving parenting knowledge, skills and behaviours during an 18 month pilot in Việt Nam.
An independent report assessing results of the programme shows clear positive impacts on parents' change in child-rearing and upbringing across all three content pillars of Child Health, Child Behaviours and Child Intelligence, with 85 per cent of parents surveyed agreeing that the programme helped improve their parenting knowledge and skills.
Up to 97 per cent of the parents have changed their parenting approaches as suggested by the programme and made positive changes to their perceptions and behaviours: parents spend more time with their children; reduce parenting anger and the use of negative practices in dealing with various parenting situations such as child disobedience and tantrum behaviours; spend an appropriate amount of time feeding their children and know how to apply the programme's tips to provide their children with enjoyable, delicious and nutritious meals.
As a result, the programme helped more than 97 per cent of parents reduce their level of stress significantly.
The findings also suggest that the programme has successfully reached out to male parents with an increase in parenting knowledge and skills recorded than their female counterparts with regards to various parenting topics, including spending quality time with their children, understanding children's psycho-biological characteristics, managing parenting anger, and protecting children against abuse.
The programme, entitled "Sinh Con, Sinh Cha" (Born Children, Born Parents), was jointly implemented by the National Fund for Vietnamese Children (NFVC) and Generali Vietnam Life Insurance LLC (Generali Vietnam).       
By end of 2021, the programme has successfully organised a series of parenting workshops in various provinces and cities across the country, benefiting more than 3,200 parents, children, kindergarten teachers and staff. The programme's educational sitcom series and wide-ranging digital parenting content on Youtube, its Facebook Fanpage as well as "Sinh Con, Sinh Cha" parenting community group have garnered millions of views and positive interactions from millions of parents.
"The programme equips parents with useful knowledge, thereby improving their parenting skills to offer their children the best start in life as well as comprehensive development," said Deputy Minister of Labour, Invalids and Social Affairs Nguyễn Thị Hà.
"Community education programmes like "Sinh Con, Sinh Cha" has contributed to creating sustainable values and benefits for the Vietnamese children's comprehensive development. The very positive findings reported have strengthened our confidence that the programme has been meeting our goals of enhancing children's protection, care and education," said the director of the NFVC Hoàng Văn Tiến.
"Sinh Con, Sinh Cha" is part of The Human Safety Net, a Generali Group's global movement initiated in 2017. The family programme supports parents in the first six years of their children's lives to lay the strongest possible foundations for their future, contributing to early childhood development in disadvantaged communities worldwide.
"The results shared today confirm the relevance of increasing accessibility to the parenting contents, according to a nurturing-care concept. Offering a child the best possible nurturing and caring experience right in the early childhood years will help shape a brighter and happier future for them and society as a whole," said  Emma Ursich, Executive Officer of The Human Safety Net.
Riding on the success of the pilot programme in 2020–21, the NFVC and The Human Safety Net Vietnam are forging ahead with "Sinh Con, Sinh Cha" implementation plan for 2022–23. The programme is expected to reach out to an additional 4,000 parents, children, kindergarten teachers and staff via parenting workshops in 10 provinces and cities nationwide.
The programme also aims to develop new content and extend the programme's reach across digital and social media channels, attracting millions of views and interactions of millions of families across Việt Nam. The programme's new 12-episode sitcom series is also slated for release in 2022. — VNS
Read More :
-
Reduce Hair Loss with PURA D'OR Gold Label Shampoo
-
Castor Oil Has Made a "Huge" Difference With Hair and Brow Growth
-
Excessive hair loss in men: Signs of illness that cannot be subjective
-
Dịch Vụ SEO Website ở Los Angeles, CA: đưa trang web doanh nghiệp bạn lên top Google