Thanh Nga
QUẢNG NINH — Chess players competed in the individual standard chess category at the SEA Games 31 on Tuesday.
Grandmaster (GM) Trần Tuấn Minh defeated GM Nay Oo Kyaw Tun of Myanmar in the first match for the men's side. However, he lost to Novendra Priasmoro of Indonesia in the second game.
Meanwhile, gold medal hope GM Nguyễn Ngọc Trường Sơn tied with GM John Paul Gomez of the Philippines, but bounced back strongly in the next game to beat Wynn Zaw Htun of Myanmar.
Sơn, who has the Elo rating of 2,641, is the No 1 seed of this division, followed by Minh (Elo 2,533), Yeoh Li Tan of Malaysia (Elo 2,523) and Novendra Priasmoro of Indonesia (Elo 2,501).
In this event, the players play nine games to calculate points to award medals.
On the women's side, Vietnamese GM Võ Thị Kim Phụng (Elo 2,340) and Hoàng Thị Bảo Trâm (Elo 2,272) is seed No 3 and No 4, respectively. The No 1 seed belongs to Irene Kharisma Sukandar (Elo 2,392) of Indonesia. Singaporean Gong Qianyun (Elo 2,348) is placed No 2.
This women's category has only 10 players, so the competition format is round-robin.
Trâm took the white piece and met Phụng in the first game. It was no surprise that the all-Vietnamese match finished with a draw.
In the second match, Phụng beat Puteri Munajjah Az Zahraa Azhar of Malaysia, but Trâm was defeated by Araya Prommuang of Thailand.
Both Trâm and Phụng were born and raised in the ancient capital of Huế. They have both won Asian titles.
In other matches, Ervan Mohamad of Indonesia bested Wynn Zaw Htun of Myanmar, however, Ervan tied with John Paul Gomez Sanchez of the Philippines in the next round.
Yeoh Li Tian of Malaysia beat Daniel Quizon Maravilla of the Philippines, but Yeoh tied with Jingyao Tin of Malaysia in the second round.
Việt Nam is the country with the fastest-growing chess movement in Southeast Asia.
The Vietnamese chess team topped the team ranking in the regional biggest sports event in 2003, 2005 and 2011 before losing their position at the 2013 and 2019 Games.
The team set a high goal in the Games this year, striving to win five medals in 10 categories to regain their leading position in the region.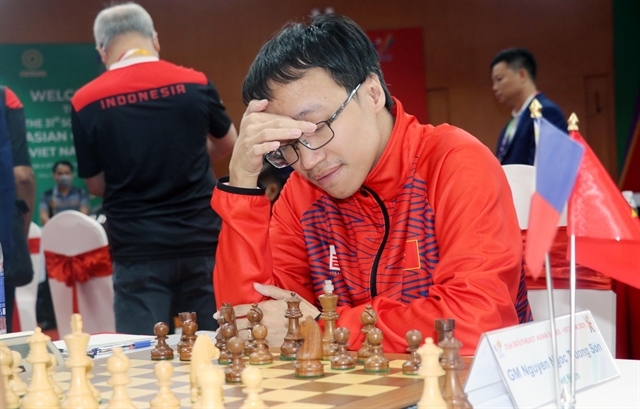 GM Sơn and Nguyễn Thị Thanh An are the most successful players in the SEA Games, with six gold medals. Trâm also won two SEA Games gold medals and is the only Vietnamese chess player to attend two SEA Games at home.
Việt Nam's No 1 player Lê Quang Liêm won four SEA Games gold medals, and has the opportunity to improve his performance when he attends four events this year, starting from May 16.
Read More :
-
Reduce Hair Loss with PURA D'OR Gold Label Shampoo
-
Castor Oil Has Made a "Huge" Difference With Hair and Brow Growth
-
Excessive hair loss in men: Signs of illness that cannot be subjective
-
Dịch Vụ SEO Website ở Los Angeles, CA: đưa trang web doanh nghiệp bạn lên top Google
-
Nails Salon Sierra Madre