SEA Games
HÀ NỘI — Vietnamese athletes won three more gold medals on Sunday morning with Phạm Tiến Sản making history with his title in the men's duathlon event.
Sản was initially a 3,000m steeplechase runner who won silver at three previous SEA Games in 2013, 2015 and 2017, but switched to the duathlon over a year ago. 
He finished the combined 10km running, 40km cycling and 5km running with a time of 1hr 55.57 min on Tuần Châu Island, Quảng Ninh Province.
It is the first time that Việt Nam has won this title in a SEA Games. 
"I prepared very well for this SEA Games. This medal is for all supporters," Sản said after crossing the finish line.
"I have a great feeling right now. I am extremely happy because I am back on the national team after four years. I have changed the colour of my medal from silver to gold, although it is in a different sport," he said.
After Sản, Hoàng Thị Phương Giang took a second gold for Việt Nam in the wushu's taolu (performance) event of women's changquan (long fist).
Giang received 9.71 points, 0.01 more than Indonesian Nandhira Mauriskha.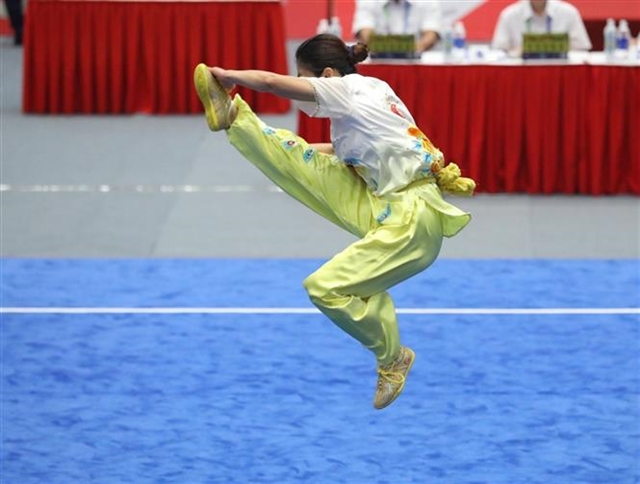 Dương Thúy Vi, also from Việt Nam, pocketed a bronze with 9.68 points.
Vietnamese athletes also earned another silver and bronze in the women's taijijian (tai chi sword), thanks to Trần Thị Minh Huyền and Trần Thị Kiều Trang, and a silver in the men's nangun (southern cudgel) via Phạm Quốc Khánh.
In Chinese chess, Việt Nam won the blitz Chinese chess team title.
Duo Nguyễn Minh Nhật Quang and Hà Văn Tiến beat their Singaporean opposition in the fifth match. Việt Nam have had 10 points and ensured their top place ahead of their last match against Malaysia later today. — – VnExpress News
Read More :
-
Reduce Hair Loss with PURA D'OR Gold Label Shampoo
-
Castor Oil Has Made a "Huge" Difference With Hair and Brow Growth
-
Excessive hair loss in men: Signs of illness that cannot be subjective
-
Dịch Vụ SEO Website ở Los Angeles, CA: đưa trang web doanh nghiệp bạn lên top Google