Thanh Nga
The SEA Games 31 marks the return of Bùi Thị Thu Thảo in the long jump category which will start today in Hà Nội.
"I am ready for the event and to devote myself to the Games to bring home a gold medal," Thảo said.
At the region's biggest sports event in the Philippines in 2019, Thảo couldn't participate because of injury. After that, she started a family and also did not set a date to return to competitions, partly because of her small child and partly because of the influence of the COVID–19 pandemic.
After two years away from events, late last year, Thảo returned to compete at the National Athletics Championship, where she reminded everyone of her prowess to take gold with 6.27m. This achievement was still far from what she had done at the Asian Games in 2018 (6.55m) and SEA Games 29 (6.68m), but it was her great return nonetheless.
In 2017, Thảo won a gold medal at the Asian championship, and two more at the Asian Grand Prix. At the Asian Indoor and Martial Arts Games held in Turkmenistan, Thảo claimed a silver medal, with a long jump of 6.36m. While at the Asian Indoor Athletics Championship in Tehran, Iran in 2018, she also brought home gold.
"After giving birth, my physical strength dropped a lot, my endurance and strength were not as good as before. However, I am still young and have many ambitions to fulfil, so I decided to give it a try," former SEA Games champion Thảo said.
"After my injury in 2019, I took a break to have a baby. A year later, I returned to training. Over the past year, I've been trying to regain my top form. I feel that my health is still good so I decide to return to the competition so that I can contribute and bring medals for Vietnamese sports, my family and myself," Thảo said.
Sometimes, Thảo wanted to give up, but she drew motivation from her newborn.
"I want my baby to know how strong her mother is," Thảo said.
To prepare for the Games, Thảo asked her mother-in-law to take care of her child.
"Being away from my child is very sad. I feel that my child is very disadvantaged because she doesn't have her mother by her side. Therefore, I have to try harder in the Games to achieve good results so that later my child can be proud of me," Thảo said.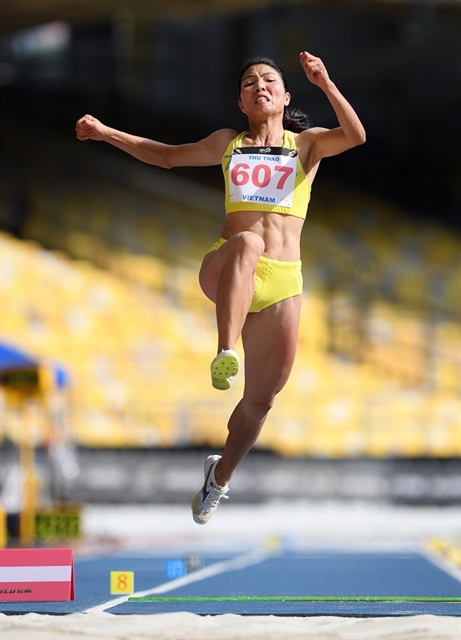 Efforts for family
Thảo experienced an irreparable sadness when her father passed away after a long, serious illness. But for Thảo, sadness is also a way for her to strengthen and motivate herself.
"The biggest motivation for me to continue to practise, compete and dedicate is for my father. He was the one who guided me towards professional sport," Thảo said.
Thảo was born into a farming family in the mountainous district of Ba Vì. She said that she had never intended to follow a sports career before, because no one in her family followed this career.
Thảo said her father always encouraged her to pursue professional sports. He was a great strength for her to overcome all challenges. In response, she always tried to make her dad proud of her.
"This time, I told myself to do my best so that my father in heaven can be assured. Although my father is no longer in this world, I believe he will smile when he sees his daughter's success," Thảo said.
If the father is the past, the daughter is the present of Thảo. Since she had her child, her life has become busy but also full of laughter. She also understands more about the merits of her parents.
"I see my child is my second life, what I do for her is what I have received from my parents," the former SEA Games champion shared.
After much sweat, tears and youth for her career, Thảo is given a small happy family. Her husband had learned to cook every dish his wife likes and is always proud of each medal won by his wife.
Behind the dedication, effort and sparkle of the medals, Thảo dreams of building a more complete home with her winnings.
The SEA Games 31 was again a test of Thảo's will. The only difference is that this is a competition right at home. She will compete with the presence of Vietnamese fans, her small family and her father who still accompanies her for every jump. — – VnExpress News
Read More :
-
Reduce Hair Loss with PURA D'OR Gold Label Shampoo
-
Castor Oil Has Made a "Huge" Difference With Hair and Brow Growth
-
Excessive hair loss in men: Signs of illness that cannot be subjective
-
Dịch Vụ SEO Website ở Los Angeles, CA: đưa trang web doanh nghiệp bạn lên top Google