Lê Hương
HÀ NỘI — Hà Nội's Tourism Department and Hanoitourist have launched a bicycle tour titled "Foot Prints at Bát Tràng Ancient Village", aimed at visitors coming to the capital for the SEA Games.
"This is a new tour in the framework of a programme aiming to upgrade the quality of the route from Hà Nội's centre to Bát Tràng Ceramic Village," said Trần Trung Hiếu, deputy director of the department.
"The new tour will serve both domestic and international tourists, especially during the 31st SEA Games."
Participants will depart from the Sacrifice for the Father Land Monument in front of Ngọc Sơn Temple in downtown Hà Nội, riding 15km to Bát Tràng Village. Along the way, they will pass many streets in the Old Quarter like Hàng Ngang, Hàng Đào and Đồng Xuân Market.
From there they will pass Long Biên Bridge to reach Bát Tràng Village, where visitors can go along the village's road to explore the silt island in the middle of the Hồng (Red) River, enjoying lust fruit gardens and fresh air from the river.
Tô Nguyệt Khanh, who often joins bicycle tours, said the Bát Tràng Tour brought her a special feeling. It not only changes the scenery but increases the depth of culture in the inner city and the outskirts of Hà Nội.
"The distance of 15km long is suitable for riding bicycles among various aged visitors," she said. "It's also suitable to foreigners, especially the ones participating in the SEA Games, who do not have much time."
The tour guide explains the more than 1,000-year history of the village, which is marked by small lanes and old temples covered with moss.
Guests will visit the village's communal house, which hosts stone stelae recording 364 people, who passed royal contests during feudal times.
Visitors will see the only 100-year-old ceramic kiln in the village.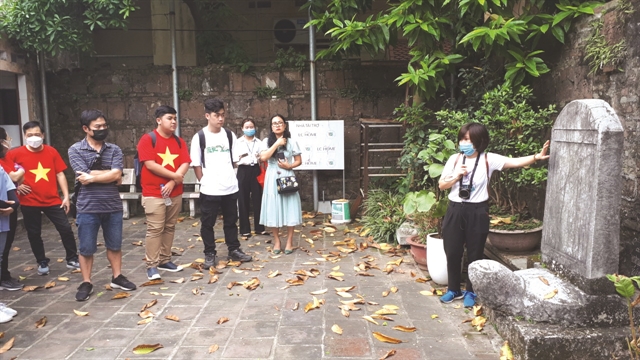 "SEA Games take place right after Việt Nam re-opened the door to the world, which is a golden chance for the Vietnamese tourism sector to resume," said Phùng Quang Thắng, director of Hanoitourist.
"This tour brings tourists to an ancient village near Hà Nội's centre. We want to link the Old Quarter of Hà Nội with the ancient village. Hundreds of years ago, ceramic wares from the village were sold in Thăng Long Citadel. Now we want to bring tourists back from the city to the rural area."
Thắng said Bát Tràng Village has been a familiar destination, but in this tour, the cultural features are more stressed while previous tours introduce ceramic handicrafts and inspire guests to buy products.
The tour will create an impetus for the capital's tourism and the capital's handicraft villages, he said.
Thắng explained why the company chose the title "Footprints in Bát Tràng Ancient Village" as they want the guests who visit the village to go to other countries and tell people to come to the village.
The company has also promoted existing tours inside the city like night tours of Hỏa Lò Prison and Thăng Long Imperial Citadel Complex, as well as a walking tour of French architecture in Hà Nội.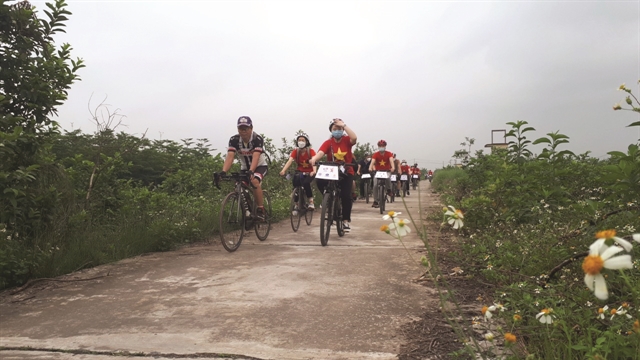 In the outskirts, the company has enhanced the quality of tours to Tây Phương, Thầy and Hương pagodas, as well as tours to Đường Lâm Ancient Village, Tam Cốc – Tràng An in Ninh Bình Province, Hạ Long in Quảng Ninh Province and Sa Pa in Lào Cai Province.
The tours will be designed according to the demands of SEA Games participants and visitors.
Phạm Văn Bảy, deputy director of Vietravel Hà Nội branch, said the company has also prepared various sets of tours for before, during and after the SEA Games.
The department between May 13 and 15 will host the Hà Nội Tourism Festival and between May 18 and 22 the Hà Nội Culinary and Handicraft Villages Festival.
However, many tourism companies have not paid much attention to SEA Games guests.
Bùi Thanh Tú, marketing manager of Best Price Company, said one of the reasons why the company has not been interested in the SEA Games is that many companies are aiming for individual tourists, rather than tourists travelling in big groups.
"During SEA Games, delegates from ASEAN countries, athletes and reporters will be entertained in diplomatic ways," he said. "Not many guests will join mixed tours."
Furthermore, after two years of the pandemic, many companies have run out of capital and are in lacking in staff. They tend to focus more on the existing source of tourists to recover their operations, rather than following guests from SEA Games, he said.
Tú said Best Price has prepared for a long time to resume operations right after the country re-opened.
"We do not take SEA Games opportunities as many guests have booked us already," he said. "We receive more and more customers both inbound and outbound, especially during holidays."
Vũ Thanh Trí, from Sunrise Tourism Company, said his company will receive SEA Games participants in already available tours with other customer sources introduced from big travel agencies.
"So we can both use up SEA Games event and save operation costs," he said.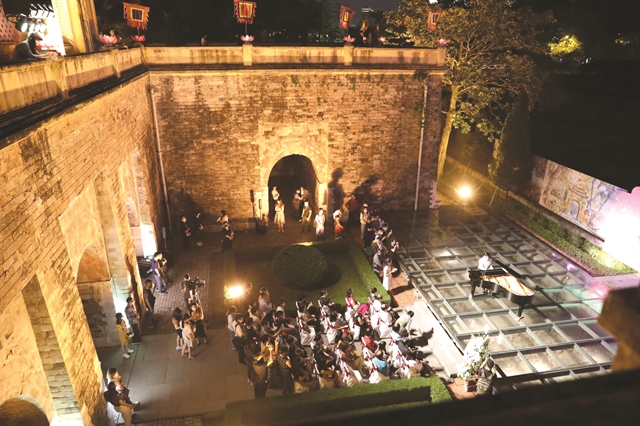 Đặng Hương Giang, director of Hà Nội Tourism Department, said the SEA Games will gather nearly 10,000 sports people and thousands of fans from ASEAN countries.
The department has prepared 14 hotels with over 3,000 rooms for the guests.
"The department has also coordinated with involving agencies to prepare Hà Nội's unique culinary menu for the delegations," she said. "We have hosted training classes for over 160 cultural workers from urban and rural districts, towns and destinations that host sports events to serve guests the best."
The city authorities have also promoted the city's tourism on various domestic media channels and international channels like CNN and social networks like Youtube and Facebook.
The city expects to receive some 3.2 million visitors in the second quarter, three million of whom are Vietnamese visitors and the rest are from overseas.
The authority expects this year Hà Nội will receive 9-10 million visitors, including some two million foreigners, with a total income from tourism of VNĐ27.8-35.8 trillion (US$120.2 million-155 million). — – VnExpress News
Read More :
-
Reduce Hair Loss with PURA D'OR Gold Label Shampoo
-
Castor Oil Has Made a "Huge" Difference With Hair and Brow Growth
-
Excessive hair loss in men: Signs of illness that cannot be subjective
-
Dịch Vụ SEO Website ở Los Angeles, CA: đưa trang web doanh nghiệp bạn lên top Google
-
Nails Salon Sierra Madre