HCM CITY — Theatre director Vũ Xuân Trang and young actors with the Hồng Vân Drama troupe are working on a new version of the Shakespearean tragedy Macbeth. 
Written by William Shakespeare in 1603, Macbeth was first staged in London in 1606 and has been restaged innumerable times by leading theatres around the world. 
Macbeth, a brave Scottish general, receives a prophecy from a trio of witches that he will become King of Scotland one day. The tragedy begins to unfold as he murders King Duncan and usurps the throne. He becomes a tyrant as he seeks to protect himself from enmity and suspicion, finally descending into madness and death.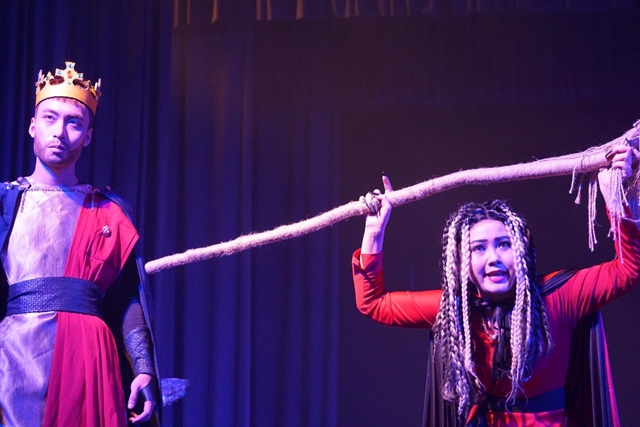 "I believe Vietnamese versions of western theatrical plays by Shakespeare and Molière will offer something new and interesting for audiences," said director Trang, who has 15 years of experience in the industry. 
Trang said he has worked with theatre designers to perfect his production with costumes, choreograph, music, lighting and visual effects.
He has cast young talents Quang Huy and Trung Anh, graduates of the HCM City University of Theatre & Cinematography, to play role of Macbeth, while Chí Cường plays King Duncan. 
"We have spent a lot on Vietnamese versions of foreign works, including Trang's Macbeth," said People's Artist Hồng Vân, owner of Hồng Vân Drama Stage and Chợ Lớn Drama Troupe.   
"Live theatre is very different from TV shows. It evokes physical, emotional and social reactions; and helps young audiences develop a healthy appreciation of culture and the arts." 
Last month, Vân invested in a new version of the French musical Notre Dame de Paris based on the famous novel by Victor Hugo, set in 15th century Paris. 
The Vietnamese version is directed by Thanh Thủy, a prominent theatre director in the city. 
Thủy has cast actors from the Chợ Lớn Drama Troupe in lead roles.
Vân said she supported the casting because "new and young faces leave stronger impressions on audiences". 
In the Vietnamese version of Macbeth, producer Vân and director Trang decided to use young actors as the way to attract and meet the demand of audiences.
"We want to bring a fresh breeze into Vietnamese drama," said Vân, who has 30 years of stage experience. 
The Vietnamese version of Macbeth will be staged on Sundays starting on May 15 at the Phú Nhuận Cultural House, 70-72 Nguyễn Văn Trỗi Street, Phú Nhuận District. — – VnExpress News
Read More :
-
Reduce Hair Loss with PURA D'OR Gold Label Shampoo
-
Castor Oil Has Made a "Huge" Difference With Hair and Brow Growth
-
Excessive hair loss in men: Signs of illness that cannot be subjective
-
Dịch Vụ SEO Website ở Los Angeles, CA: đưa trang web doanh nghiệp bạn lên top Google