HÀ NỘI — For a developing society and economy like Việt Nam's, energy is the engine behind growth, especially in post-pandemic recovery. While it is important to save energy, what matters is smart consumption – correct, sufficient, and intelligent use of energy.
The statement was made by Nguyễn Anh Tuấn, senior expert on energy from the Việt Nam Energy magazine at a seminar on Wednesday.
Focusing on the economical use of energy, the event gathered experts in the field to discuss energy transition, renewable energy, and the solutions to ensure electricity supply during the summer months in Việt Nam.
Elaborating on Tuấn's point of view, director of the Centre for Energy and Green Growth Research (CEGR) Hà Đăng Sơn said: "Saving and using energy efficiently is the only way to go to achieve COP26 commitments and energy transformation.
"We cannot just keep chasing after demands. At a certain point when our domestic supply is no longer enough, we will be forced to import energy, even at high prices."
All those additional costs could be a small amount for well-off households. However, for poorer families with below-average income, that would be a significant challenge in meeting their minimum, most basic living needs, Sơn explained. 
Việt Nam's commitments to the net-zero emission target have seen the country shifting from fossil fuels to renewables. However, renewable energy in Việt Nam remains limited due to insufficient knowledge of climate change. 
The modest infrastructure to transfer electricity from renewable energy plants to different regions of the country is also a problem.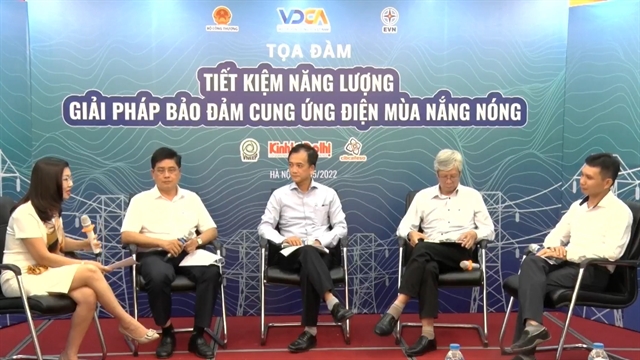 The panel agreed that Việt Nam has a huge potential for energy saving as it is now more energy-intensive than the region and the world – which means Việt Nam consumes more energy to produce a unit of GDP than developed countries.
Trịnh Quốc Vũ, deputy director of the Energy Efficiency and Sustainable Development Department, under the Ministry of Industry and Trade, said: "In terms of primary energy intensity, Việt Nam needs roughly 400 kilos of oil equivalent to generate US$1,000 in GDP.
"This figure is around 30 per cent higher than Thailand, 60 per cent higher than Malaysia, and four to five-fold more than that of developed countries like Japan or the US."
The reason behind this is the macro-economic structure – with heavy industries such as iron, steel, and cement production being more energy-intensive than electronic, semiconductor manufacturing processes, or tourism. 
Vũ said: "In the long run, to reduce the energy intensity, we have to develop a strategy to transform to a greener macro-economic structure, with industries that require less energy and produce a lower level of carbon emission."
Efficient use of advanced technology and better awareness also play an important part, he added. 
Việt Nam Electricity (EVN) has conducted numerous campaigns and events to promote saving energy and taking conscious actions for the environment, said its deputy general director Võ Quang Lâm.
He added: "Now it is necessary to develop comprehensive policies and frameworks."
"It is about shifting from encouraging to requiring businesses and people to save and use energy effectively, and that should be legislated."
In 2020, the Government approved Directive No. 20 on the economical use of energy, which aims to save at least 2 per cent of total electricity consumption each year. — VNS
Read More :
-
Reduce Hair Loss with PURA D'OR Gold Label Shampoo
-
Castor Oil Has Made a "Huge" Difference With Hair and Brow Growth
-
Excessive hair loss in men: Signs of illness that cannot be subjective
-
Dịch Vụ SEO Website ở Los Angeles, CA: đưa trang web doanh nghiệp bạn lên top Google