THÁI NGUYÊN — As part of Safety Delivered programme, supported by The UPS Foundation, AIP Foundation has hosted a day of fun learning about road safety for young students and announced the winners of the helmet safety-drawing contest in the northern province of Thái Nguyên.
In cooperation with the Provincial Traffic Safety Committee and the Department of Education and Training of Thái Nguyên Province, AIP Foundation is gathering at Tràng Xá School to bring together students, teachers and local government representatives.
During Phase III of the Safety Delivered program (2021-22), 62 per cent of students who participate in the programme are from underrepresented communities. These children often lack access to safe and sustainable commutes. The helmets and road safety education received through the programme make a life-saving difference for vulnerable children on their way to and from school.
In April, students from five project schools projects across Võ Nhai District in Thái Nguyên Province entered the drawing contest. Each class was encouraged to draw a picture in their classroom following the topic: "Correct helmet wear – Safety Delivered". All students were given full free creative reign to draw what safe helmets represent to them.
Some students drew about our Protec helmets, expressing the importance of how a quality helmet can have a life-saving impact. It was particularly endearing to see the drawings where students expressed through pictures how important it is for their parents to be aware of road safety skills and using quality helmets.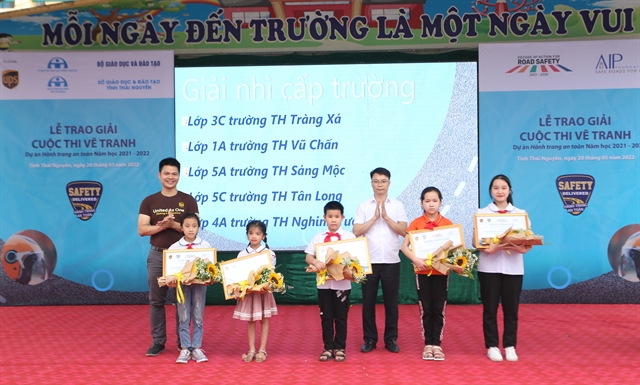 "I am honored to witness the students learning so many road safety skills that will stay with them throughout their lives. I was touched to see so many incredible drawings! The students really did a great job to express how important road safety is. It was really difficult to select the best drawings, they are all so good," shared Nguyễn Thị Thúy Hằng, Brokerage Supervisor and Co-Chair of UPS Việt Nam community involvement committee.
In this extracurricular activity as part of the Safety Delivered programme, students are learning the importance of wearing a helmet to protect themselves. It also gives the students an opportunity to reflect on the lessons learned during the programme and express their own ideas on helmet safety by creating their own artwork.
"If we want to bring about lasting social change, we need to empower students from a young age. Today is all about putting their voices first. Students using art to express their road safety knowledge is a testament to the success of the Safety Delivered programme. At UPS, we are proud to support AIP Foundation, empowering and engaging with students from the very start," said Squall Wang, Managing Director, UPS Việt Nam.
With support from the 2022 FIA Global Action Grant, the day will be filled with interactive activities for all students including a photo exhibition to raise road safety and helmet safety awareness for all attendees, a photo booth to promote the worldwide #StreetsForLife campaign, and a handover of the Global Action Plan as part of the Second Decade of Action for Road Safety 2021-30.
The Global Plan will be handed over to the local government in Thái Nguyên Province to amplify all campaigning efforts and to secure future commitment for change. Việt Nam's National Road Safety Strategy supports meeting the goals of the 2030 UN Agenda for Sustainable Development as part of the Global Plan, ensuring maximum traffic safety for all school students across the country.
Nguyễn Đức Thịnh, Deputy Director of Thái Nguyên Department of Education and Training expressed, "Today is an excellent opportunity for students to express everything they have learned through the powerful Safety Delivered programme. It was a joy to see the students learning and drawing about helmet safety. As the protectors of our future generation, it is our responsibility to ensure that every student is safe on their way to and from school. We must work together to do this. We cannot hope to achieve this alone."
Safety Delivered is a program implemented by AIP Foundation to work with primary school students and motorcyclists in high-risk areas in India, the Philippines, Thailand, and Vietnam by reducing road crash injuries and fatalities among children and vulnerable road users through inclusive helmet distribution and education, combined with advocacy and awareness initiatives which target youth, community members, civil society, and governments to address high-risk road behaviours. Through these reinforcing components, Safety Delivered works to build an ecosystem for sustainable change to better protect all road users. During the next two years, the Safety Delivered program will distribute 4,900 helmets to students and teachers from ten program schools in HCM City and Thái Nguyên Province, Việt Nam. — VNS
Read More :
-
Reduce Hair Loss with PURA D'OR Gold Label Shampoo
-
Castor Oil Has Made a "Huge" Difference With Hair and Brow Growth
-
Excessive hair loss in men: Signs of illness that cannot be subjective
-
Dịch Vụ SEO Website ở Los Angeles, CA: đưa trang web doanh nghiệp bạn lên top Google