HOÀNG HỒ
QUẢNG NINH — After the final matches of Group B on May 15 in Cẩm Phả Stadium, Việt Nam's women's football team will face Myanmar in the semi-finals. 
The late match on Sunday saw Thailand smash bottom-side Laos 5-0 to go top of Group B, while Mynamar's 1-0 win against Singapore secured them second place in the table.
Facing the mighty Thailand with nothing to lose and with a boisterous fan base to cheer them on, Laos kept the Thais on their toes in the opening minutes, with clever link-up play from both wings.
However, due to the enormous gap between the two, the women in red couldn't maintain momentum, as Thailand started to impose their dominance on possession, marked by their first goal in the 17th minute.
From a Thai cross from the left-wing, Laos' defender Minivanh Bounthan cleared the ball with her head.
The ball went straight to Thailand's number 21 who was already waiting outside of the box. The Thai then tried her luck from 30 metres out, only to be denied by the post.
Waiting for the rebound was Chatchawan Rodthong, whose easy tap–in brought the Chaba Kaew upfront.
The first goal opened the floodgates and started a nightmare for Laos.
Before the first half was over, Thailand's key player Taneekarn Dangda went through on goal, breaking the Lao offside trap and scoring from an easy one–on–one with the goalkeeper in the 43rd minute.
Having conceded two goals, Laos tried everything to turn the table around in the second half, but their noisy fans were the only thing they could beat the Thais with.
Vongmisay Soubouakham's women ended up losing three more goals, as Dangda completed her hat trick with two goals in the second half, alongside Somnuek's tap–in in the 57th minute.
The match ended 5-0, confirming a ticket to the semis for the Thais, while Laos go home without having scored a goal.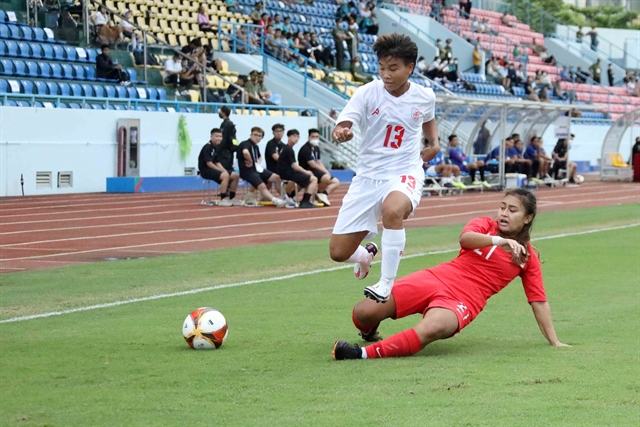 In the early match, Myanmar secured their second place with a narrow 1-0 win against Singapore.
Win Theingi Tun continued to carry the team with a late header in the 94th minute of the match, though it wasn't enough for them to go top of the table.
With the results, Thailand will face the Philippines while the hosts Việt Nam take on Myanmar in the women's football semi–final.
The semis will take place on May 18 in Cẩm Phả Stadium.
Read More :
-
Reduce Hair Loss with PURA D'OR Gold Label Shampoo
-
Castor Oil Has Made a "Huge" Difference With Hair and Brow Growth
-
Excessive hair loss in men: Signs of illness that cannot be subjective
-
Dịch Vụ SEO Website ở Los Angeles, CA: đưa trang web doanh nghiệp bạn lên top Google