Hoàng Hồ
HÀ NỘI — Felisberto de Deus, with a Vietnamese flag in his hand, waved at the fans cheering on his second silver medal at this year's Games.
One day after the historic SEA Games silver in the men's 5,000m event, Deus continued to make Timor Leste proud with another medal in the men's 10,000m.
The two silvers that Deus won are also the only medals of the Timor Leste delegation so far.
Massive effort helped the East Timorese finish second, behind only Vietnamese veteran Nguyễn Văn Lai who completed his golden double with a time of 32:17.34.
It was the second gold for the 35-year-old runner and the second time Lai surpassed Deus, the first time being in the 5,000m.
In the 800m heptathlon event, a superb performance by Nguyễn Linh Na bagged Việt Nam another gold, bettering Philippines' Sarah Noveno and bronze medalist Kamaruddin of Malaysia.
Na's 5415 points broke the national record of 5350 set by Nguyễn Thị Thu Cúc in 2005.
The win helped the hosts win gold in this category for the first time in the SEA Games.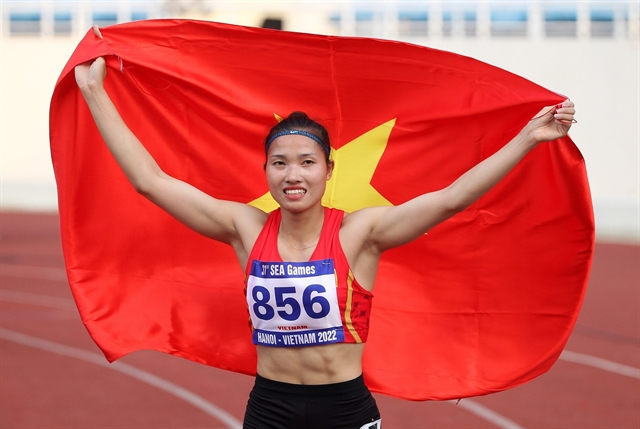 Earlier, Việt Nam's Quách Thị Lan was crowned queen of the women's 400m hurdles with a time of 56.53 secs. Behind was her compatriot Nguyễn Thị Huyền whose 56.41 record beat the Philippines' Robyn Crisostomo by a tiny margin of 0.03 seconds.
While the women enjoyed success in the 400m hurdles, the men did less well.
Despite doing his best, Lan's brother Quách Công Lịch failed to win gold against the Filipino-American Eric Cray Brazas and ended up bagging silver as Singapore's Quek Calvin finished third.
In the men's triple jump category, Andre Anuar from Malaysia topped the medal table with a record of 16.21m, while Philippines' Mark Aloto brought home silver and Vietnamese Trần Văn Điển won bronze.
May 18 will hold the 10,000m (men and women), women's heptathlon, 100m (men and women), men's high jump, women's javelin and 4x400m relay (men and women) events.
All categories are held in the Mỹ Đình National Stadium in Hà Nội. VNS
Read More :
-
Reduce Hair Loss with PURA D'OR Gold Label Shampoo
-
Castor Oil Has Made a "Huge" Difference With Hair and Brow Growth
-
Excessive hair loss in men: Signs of illness that cannot be subjective
-
Dịch Vụ SEO Website ở Los Angeles, CA: đưa trang web doanh nghiệp bạn lên top Google