Thanh Hà
Thailand and Việt Nam earned the same three gold medals on the next-to-last day of athletics while the Philippines added one on May 18.
Puripol Boonson completed his hat-trick after winning the men's 100m event with a time of 10.44sec.
He earlier took golds in the 200m and 4x100m relay, setting a Games record for the 200m in the process.
Another Thai, Soraoat Dapbang, finished second with 10.56, followed by Singaporean Marc Brian Louis with 10.56.
Their team came first in the men's 4x400m event, kicking reigning champion Việt Nam off the top of the podium. Joshua Atkinson, a naturalised runner, added the fourth gold to his collection at his first SEA Games.
Singapore finished third.
The last gold of the powerhouse was in the men's high jump as Kobsit Sittichai made a 2.21m to top the podium.
Malaysian duo Nauraj Singh Randhawa and Mohamad Eizlan Dahalan shared second place with the same result of 2.18m.
The Philippines joined the winning team on May 18 after Kayla Richardson was crowned the fastest woman in the region, running 100m in 11.60sec.
The absence of last Games' champion Lê Tú Chinh of Việt Nam and silver medalist Kristina Knott of Thailand to injuries gave Richardson the chance to shine, and she did just that.
The 2019 Games' bronze holder Veronica Shanti Pereira of Singapore came second with 11.62 and Thai Supanich Poolkerd finished third with 11.66.
Hosts' success
Lò Thị Hoàng cried after seeing her result in the last throwing attempt at the Mỹ Đình Stadium.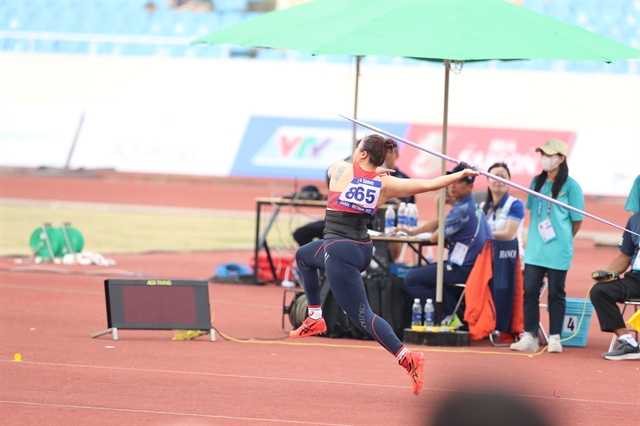 Her 56.37m not only won her the first gold of her career, but also set a new SEA Games javelin record.
Hoàng overcame five athletes, including defending champion Natta Nachan of Thailand, in this event and broke the old record of 55.97m set by Buoban Pamang of Thailand way back at the SEA Games 24 in 2007 in Nakhon Ratchasima, Thailand.
The silver went to Thai Jariya Winchadit (55.65) and the bronze belonged to Evalyn Palabrica Barba of the Philippines (49.07).
"I am happy with my result. I was injured at the national championship so my result there was not good. My Thai rivals were very strong. But today I make a record although my dream was a gold," said Hoàng, 25, from the mountainous province of Sơn La.
"I want to give this gold to my mother. She is the one who solves all of my problems. Whenever I felt tired or bored, I called her and she comforts and encourages me. She lifted me by saying that not many Thái ethnic minority girls can come to the city to be sportswomen and can compete in the SEA Games.
"I am happy as my parents travelled a long way to Hà Nội to see me competing and winning," said Hoàng, who took silver at the last Games.
Inspired by Hoàng's victory, Phạm Thị Hồng Lệ took the top of the podium in the women's 10,000m event.
Lệ, who also finished second last Games, came first with a time of 35:36.38. She completed her race when two runners still had one lap to go.
Her teammate Lò Thị Thanh (36:32.00) came second and Goh Chui Ling of Singapore (39:22.00) was third.
In the latter event, the Vietnamese quartet successfully defended their 4x400m title with a time of 3:37.99.
They left behind teams from Thailand (3:42.90) and the Philippines (3:43.26).
It was the fourth Games in a row that Việt Nam won this category.
It was also the 19th gold of the track-and-field team, a record for them. They have exceeded their target of 17 golds.
On the last day May 19, participants will compete in the men's and women's 20km walk and men's and women's marathons.
Việt Nam are defending champion in the women's walk and marathon, while Indonesia traditionally dominate the other two.
Read More :
-
Reduce Hair Loss with PURA D'OR Gold Label Shampoo
-
Castor Oil Has Made a "Huge" Difference With Hair and Brow Growth
-
Excessive hair loss in men: Signs of illness that cannot be subjective
-
Dịch Vụ SEO Website ở Los Angeles, CA: đưa trang web doanh nghiệp bạn lên top Google