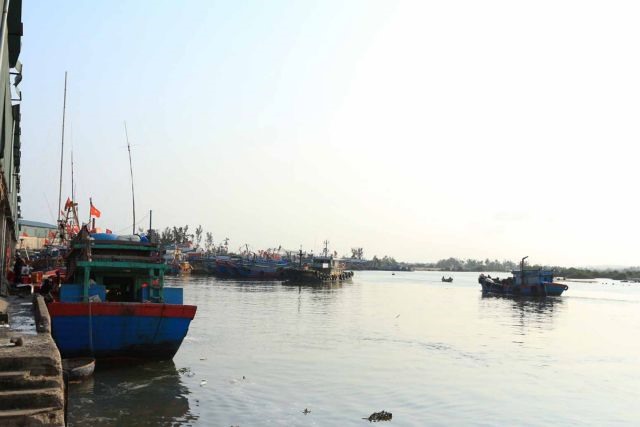 Many fishermen clean their boats while docked at Sa Huỳnh fishing port and discharge wastewater directly into the sea. — Photo moitruongvadothi.vn
QUẢNG NGÃI — Large amounts of waste have been washing ashore in the southern central province of Quảng Ngãi recently, despite efforts of the community to keep the rubbish at bay. 
Môi trường và đô thị (Urban and Environment) online newspaper reported that trash has been strewed along the shore of Phổ Thạnh Ward in Đức Phổ District.
At Sa Huỳnh fishing port, garbage, wastewater and rotting sea creatures have made the area so stink.
Along the wharf, many fishermen clean their fishing boats and discharge wastewater directly into the sea, the newspaper said. 
Residents said they clean up and collect garbage along the beaches and fishing ports every week. However, the amount of garbage stuck on the beaches has exceeded the cleanup ability of the residents.
In addition to garbage washing ashore, wastewater from the cleaning of boats and the production activities of seafood processing enterprises have caused more serious pollution. 
During the dry season, or every time the tide recedes, this area is full of garbage and strong odours, residents say. 
In the coastal area of ​​Bình Đông Commune, Bình Sơn District, trash can be seen not only around residential areas along the coast but also on the roads. 
"The commune is located the downstream of Trà Bồng River, so waste is washed into the sea by water flow and washed up on beaches again during high tide," said Phan Văn Đông, chairman of Bình Đông Commune People's Committee. 
"The local authority has called on people not to throw garbage into the ocean and raised people's awareness on environmental protection. The locality has organised many garbage collection campaigns but failed to solve pollution along the beaches completely," he said. 
In Tịnh Kỳ port, Quảng Ngãi City, the pollution is also getting more and more serious. Locals have discharged waste water and waste into the sea, making the seawater turn black around the fish gathering.
A resident from An Vĩnh Village said: "The beach area of the village is like a small bay without embankment. Tide has left this area's beach filthy with garbage washing ashore. The local government and people regularly organise clean-up activities, but pollution is getting worse and worse, forcing people to keep their doors shut all the time."
Nguyễn Hoài Thanh, chairman of the Tịnh Kỳ Commune People's Committee, attributed the polluted environment to the local authorities' poor management. However, it couldn't deal with the problem entirely due to budget limitations. 
"The local authorities have regularly called on people not to litter into the sea and strengthened human resources to collect garbage in the villages. Local people also signed a commitment not to litter. The commune is expected to mobilise people and local forces to collect garbage in coastal areas this month," Thanh said. — VNS
Read More :
-
Reduce Hair Loss with PURA D'OR Gold Label Shampoo
-
Castor Oil Has Made a "Huge" Difference With Hair and Brow Growth
-
Excessive hair loss in men: Signs of illness that cannot be subjective
-
Dịch Vụ SEO Website ở Los Angeles, CA: đưa trang web doanh nghiệp bạn lên top Google