Football
Thanh Hà
HÀ NỘI — Bùi Hoàng Việt Anh was visibly moved when he was named the Best Young Player 2020 two years ago, saying the title was an honour that would push him on in his career.
He was not wrong. Since then, Việt Anh has grown to be a key part of both Hà Nội FC and the U23 national squads.
Under the guidance of the new U23 coach Gong Oh-kyun, Việt Anh has now been given the captain's armband and will lead the national team at the Asian Championship in Uzbekistan this month.
"Wearing the prestigious armband is an honour because the coaching board and teammates believe in me, but it is also high responsibility," said Việt Anh.
"In my opinion, a captain should show his leadership ability in training, on the pitch and in his daily activities.
"I have to cooperate the players, create unity and boost the team's spirits, among other tasks."
A scoring defender
Việt Anh was recruited for the youth team of Hà Nội FC when he was 11, in 2010. His father is a huge football fan and has always supported him to make it as a professional player. 
Living away from his family was not easy, especially as he had never gone too far from his rural village in Thái Bình Province.
In fact, Việt Anh cried so much that coaches had to ask his mother to come several days a week to stay with him until he was familiar with his new living conditions.
In time, Việt Anh settled in. During a two-year loan spell at Hồng Lĩnh Hà Tĩnh he helped them secure promotion to V.League 1, before returning to Hà Nội FC in 2020.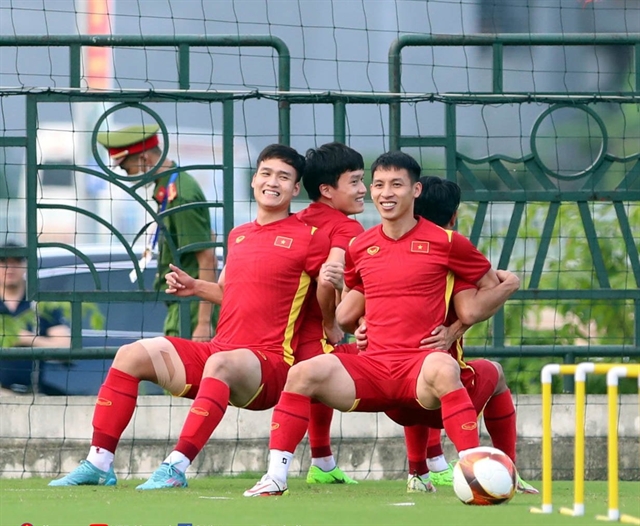 "He is a dynamic, enthusiastic and strong player, and can score well," coach Phạm Minh Đức of Hà Tĩnh said three years ago.
"If he wants to go further, he must improve his basic technique, sharpen his passing skills and be more proactive in managing the balls instead of simply passing balls away in threatening situations."
A year after Việt Anh returned to Hà Nội, coach Đức was also moved to the team. He saw a different defender in Việt Anh.
"He has shown his progress in managing balls and making decisions and starting attacks," Đức said.
In the domestic tournaments, Việt Anh helped Hà Nội finish second in the 2020 V.League 1, as well as winning the 2020 National Cup and the Super National Cup in 2020 and 2021.
As well as the Best Young Player 2020 award, Việt Anh was also the highest-scoring defender with four goals, more than several strikers in the V.League 1.
One of these goals was the winner in Hà Nội's 1-0 victory over Viettel to take the Super Cup 2020.
"It was one of my most meaningful goals because it helped Hà Nội win the trophy," said Việt Anh. 
"It was because I was lucky and I chose the right place to score. I really love to take part in attacks and hope that I will continue to score more."
Việt Anh had three international caps with the national U19 team in 2018 before being called up to the U23 squad for the 2019 SEA Games. While he was not a regular starter in the tournament, he still got to celebrate Việt Nam's historic first SEA Games title in 60 years.
Less than two weeks ago, the U23 team successfully defended their SEA Games title in Hà Nội.
Việt Anh hopes that success can be built on at the Uzbekistan event.
"We want to be champions of the tournament, but the first task is to advance to the second round," said the 1.85m defender, who has brought the same shirt, socks and shin guards with him for the tournament. "These things will bring me luck."
Việt Anh and his teammates will play Thailand, who they beat in the SEA Games final, in their opening Group C match on June 2 in Tashkent.
After the Thailand game, powerhouses South Korea and Malaysia await Việt Nam.
As South Korea are thought to be a shoo-in for the next round, the other three Southeast Asian teams will battle it out for the remaining spot in the next round.
Việt Nam defeated Malaysia 1-0 in recent SEA Games' semis before beating Thailand by the same score in the final. VNS
Read More :
-
Reduce Hair Loss with PURA D'OR Gold Label Shampoo
-
Castor Oil Has Made a "Huge" Difference With Hair and Brow Growth
-
Excessive hair loss in men: Signs of illness that cannot be subjective
-
Dịch Vụ SEO Website ở Los Angeles, CA: đưa trang web doanh nghiệp bạn lên top Google
-
Nails Salon Sierra Madre