HÀ NỘI A ceramic mural, Tình hữu nghị Việt Mỹ (The Việt Nam-US Friendship), has been inaugurated at the new US-Việt Nam Co-operation Centre in Hà Nội.
The mural (25m by 1.8m) is by painter Nguyễn Thu Thủy and her staff at the Tân Hà Nội Company. Thủy is an author of the mural Ceramic Road by Red River.
The mural starts with the spectacular landscape of the Grand Canyon, a massive gorge located in the state of Arizona.
"The rocky mountain complex can change colours magically according to sunlight and weather. Sometimes the whole mountain area turns red and pink, sometimes everything turns purple. That magical phenomenon of nature has inspired many artists to express themselves in their paintings," said Thủy.
She used colourful ceramic pieces to depict the changing colours of the Grand Canyon.
The mural also shows the Golden Gate Bridge in San Francisco and the Empire State Building in New York. They are highlighted on the national flag of the US.
Other symbols monuments in the mural are the Statue of Liberty and Mount Rushmore, where the portraits of presidents George Washington, Thomas Jefferson, Theodore Roosevelt and Abraham Lincoln are carved onto the granite surface.
On the other part of the mural, thousands of ceramic pieces are combined together to depict the fantastic view of Hạ Long Bay. It's the highlight of the artwork along with images of the Temple of Literature, the lotus ponds of Hà Nội and the national flag of Việt Nam.
Painter Thủy also presented US Ambassador Marc E. Knapper with a water-coloure painting of the Grand Canyon, a draft she made before making the mural. According to Thủy, the mural serves as a bridge to enhance mutual understanding and strengthen friendship between the two countries.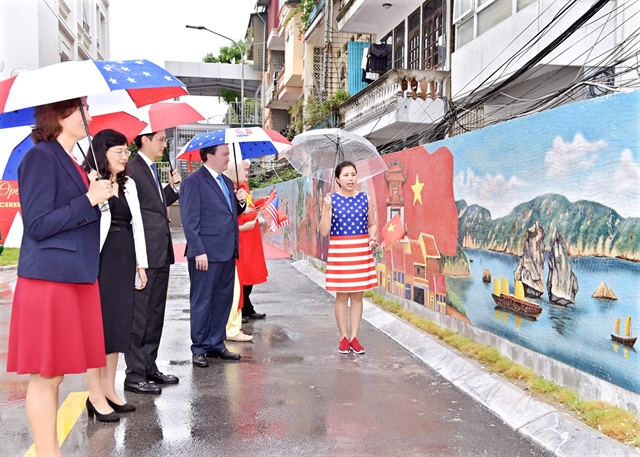 Receiving the painting, Ambassador Knapper said: "Việt Nam and the US proudly possessed two natural wonders, the Grand Canyon and Hạ Long Bay. I expect that these similarities in culture, landscape and history will help us enhance mutual understanding. Together we preserve and promote values favoured by nature."
The US-Việt Nam Co-operation Centre is located at the Diplomatic Academy of Việt Nam (DAV), 69 Chùa Láng Street, Hà Nội. VNS 
Read More :
-
Reduce Hair Loss with PURA D'OR Gold Label Shampoo
-
Castor Oil Has Made a "Huge" Difference With Hair and Brow Growth
-
Excessive hair loss in men: Signs of illness that cannot be subjective
-
Dịch Vụ SEO Website ở Los Angeles, CA: đưa trang web doanh nghiệp bạn lên top Google