Thanh Hà
Malaysia have won two gold medals on the first day of diving at the SEA Games 31 on May 8.
Duo Chew Yi Wei and Ooi Tze Liang finished first in the men's synchronised 3m springboard with 394.77 points, leaving Vietnamese pair Nguyễn Tùng Dương and Phương Thế Anh far behind on 263.34 points.
After Singapore withdrew at the last minute, these were the only two nations competing in the event.
Earlier, Malaysian diver Nur Dhabitah Sabri took the first gold of the SEA Games 31 in the women's individual 1m springboard.
Perfect jumps brought her 290 points over five attempts. Kimberly Qian Ping Bong, also from Malaysia, took silver with 230 points.
Vietnamese Ngô Phương Mai bagged a bronze, on 224 points.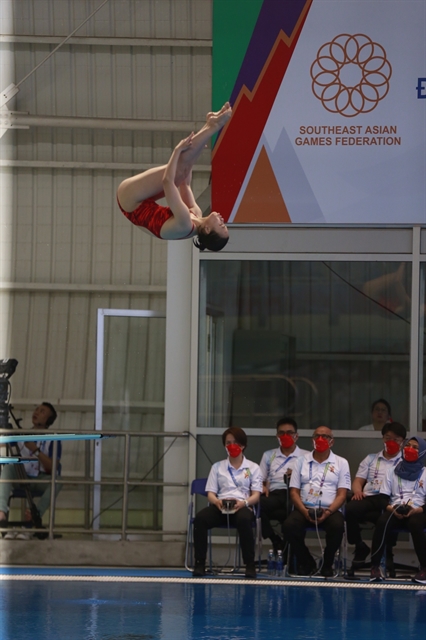 There were eight athletes competing in this event. Việt Nam, Malaysia and Singapore had two each while the Philippines and Thailand sent one each.
Nur Dhabitah Sabri is one of the best Malaysian divers. The Tokyo Olympian will carry her national flag in the Games' opening ceremony on May 12.
It is Sabri's fifth regional sports meet and she has won golds in all.
She has been competing in international tournaments since 2012, including the Commonwealth Games and FINA Diving World Series, alongside the Olympics under her belt. The 22-year-old has earned more than 20 medals, including three at FINA Diving Grand Prix and two gold medals at the Asian Diving Cup.
Malaysia, with a mix of seniors and youngsters, are the hot favourites to grab all eight gold medals on offer in the four-day diving competition.
With two golds so far, Malaysia jumps to the top of the medal tally. Việt Nam are in second.
Việt Nam's effort
Việt Nam divers completed their tournament target of one silver and one bronze on the first day, raising hopes that they will do better than expected as there are still three more days of events to come.
"It is silver but I am pretty disappointed that we take it this way. We did not have the opportunity to compete," Anh said about the men's synchronised 3m springboard medal.
They will take part in the men's individual 1m springboard event on May 9 and other categories in the days after.
Earlier, their female teammate Mai won the first medal in the women's individual 1m springboard for Việt Nam.
"It is my first SEA Games medal on home turf. It is really valuable for me," Mai said.
"My Malaysian rivals are strong. They have taken part in international tournaments year-round while my teammates and I only have one or two events per year. It is difficult to vie against them.
"Diving on home turf made me a little nervous. I think if I have better preparation and did my jumps better I would have gotten a higher result."
It was Mai's fourth SEA Games bronze medal. She took part in the three previous Games and came third in all.
Another Vietnamese diver, Nguyễn Phương Anh, got 162.9 points and ranked in sixth.
They will next compete in the women's synchronised 3m springboard on May 9 and women's individual 3m springboard on May 10.
Read More :
-
Reduce Hair Loss with PURA D'OR Gold Label Shampoo
-
Castor Oil Has Made a "Huge" Difference With Hair and Brow Growth
-
Excessive hair loss in men: Signs of illness that cannot be subjective
-
Dịch Vụ SEO Website ở Los Angeles, CA: đưa trang web doanh nghiệp bạn lên top Google