Para Athletics
Thanh Hà
HÀ NỘI — Husband and wife duo Cao Ngọc Hùng and Nguyễn Thị Hải expect good results at the 2022 World Para Athletics Grand Prix, which serves as qualifying for the Paris Paralympics in 2024.
The Grand Prix, hosted by the Tunisian Athletics Federation, is organised on June 27-30 in Tunis City's Rades Stadium.
The Vietnamese team of six athletes and one guide will compete in 14 events for both men and women.
Athletes have three days to get familiar with the field and train.
"My wife and I are competing in this Grand Prix together. I will take part in the men's F57 javelin throw while Hải will join in the women's F57 discus throw and shot put," Hùng told Việt Nam News. 
Hùng and Hải represented Việt Nam at the Tokyo Paralympics. The duo have grabbed remarkable results in both domestic and international competitions.
At the Grand Prix in 2019 in China, Hùng won one gold, one silver and one bronze, and Hải also took a gold.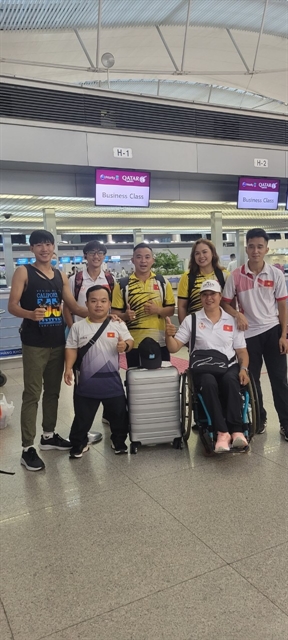 Other Vietnamese athletes are Phạm Nguyễn Khánh Minh who will run in the men's T12 100m, 200m and 400m events; Trần Văn Nguyên who will compete in the men's F40 shot put and javelin throw; Nguyễn Ngọc Hiệp who will take part in the men's T11 100m, 400m and long jump; and Trương Bích Vân who will partake in the women's F56 javelin throw, shot put and discus throw.
Vân secured two golds and one bronze while Minh bagged a silver from the Chinese Grand Prix.
Hiệp was a Rio Paralympic participant and was placed 11th in the world in 2016.
"We have just landed in Tunis after a long flight from HCM City, transiting in Dubai. It is an important event for us as it is a qualification tournament for the Paris Paralympics," Hùng said.
"As husband and wife, we both target to improve our international results here. We have not competed in any competition since the Tokyo event. The Grand Prix will be an opportunity for us to test our abilities."
Hùng said the Tunis Grand Prix is the first tournament to deliver world-point ranking for athletes. Powerful competitors such as Paralympic top three Heidari Hamed of Azerbaijan, Papi Amanolah of Iran and Lins Nobre Cicero Valdiran of Brazil, will join. 
Hùng made his season-best of 43.71m in Tokyo but it did not help him to defend the bronze medal he took from the Rio Paralympics in 2016. He placed sixth overall.
"I will definitely meet with strong rivals from Tokyo again. They are really strong, making it a tough competition.
"All athletes want to win. We will try our best to be in the top four here, or be in the leading 12 athletes of the world ranking to qualify for Paris," Hùng said. VNS
Read More :
-
Reduce Hair Loss with PURA D'OR Gold Label Shampoo
-
Castor Oil Has Made a "Huge" Difference With Hair and Brow Growth
-
Excessive hair loss in men: Signs of illness that cannot be subjective
-
Dịch Vụ SEO Website ở Los Angeles, CA: đưa trang web doanh nghiệp bạn lên top Google