Thu Hằng
HCM CITY — Nguyễn Hiến was on the edge of a nervous breakdown after her husband died of COVID-19 in July last year.
The 32-year-old mother of two daughters, who used to be a housewife, was desperate to find a vocation because the sole breadwinner of the family had been cruelly snatched away from them.
 "We were devastated, especially my daughters. I am now making a living working as a nail technician after completing a short training programme," Hiến said.
Hiến struggled to hold back her tears as she received financial support for her two daughters from the Federation of Labour on May 22.
Her two daughters were among 110 children whose parents had died of COVID-19 to receive bank savings accounts of VNĐ10 million (US$430) each.
Trần Lê Hữu Hiền, an employee of the Thiên Nam Elevator JSC in HCM City, suffered a spinal injury after an accident at work earlier last year, leaving him unable to walk. He now lives on social insurance benefits and his wife's care.
Nguyễn Thị Kim Phượng, his wife, had to quit her job to take care of him and could not make ends meet with the monthly social insurance benefit of VNĐ4 million ($172).
Earlier this month she received a bank savings account of VNĐ 5 million ($215) from the Tân Bình District Federation of Labour.
Five workers suffering from occupational diseases and injuries, severe illnesses or financial difficulties received bank savings accounts of VNĐ5 million each.
The bank savings accounts were given as part of efforts to assist disadvantaged workers during the 14th Workers Month observed in May.
The Thủ Đức District Federation of Labour also presented five savings accounts worth VNĐ10 million each to workers in need.
A total of 455 disadvantaged workers in Bình Thạnh District received VNĐ2 million ($86) each from the district Federation of Labour.
Federation officials said a wide range of programmes and initiatives has been launched to improve welfare and health of trade union members and workers during the Workers' Month.
One of them is the 'Welfare of Trade Union Members' programme that offers quality essential consumer goods at discounts of 5-30 per cent at trade fairs and mobile sale points to serve workers across the city.
The District 12 Federation of Labour handed out 800 vouchers worth VNĐ100,000 each for workers to purchase goods at a trade fair held on May 14.
The federation also signed cooperation agreements with two enterprises to sell consumer goods at discounted prices.
The District 10 Federation of Labour organised a trade fair with discounted goods for workers at the Lê Thị Riêng Park on May 15. It plans to give out gifts worth VNĐ500,000 each to 200 disadvantaged workers during the Workers Month.
Nguyễn Thành Đô, head of legal policy department under the HCM City Federation of Labour, said that for several years now, the federation has been organising trade fairs with consumer goods sold at prices lower than the market by at least 10-30 per cent.
The federation has partnered with many businesses to open more selling points at factories and areas concentrated with boarding houses to help workers easily access around 250 consumer goods and other products, he said.
Labour federations at district levels have supported trade unions and workers to repair their houses during the Workers Month.
Many sports competitions have also been organised to provide workers with recreation and fitness improving opportunities during the Workers Month.
Workers' health
Nearly 500 female workers in Bình Tân District received free health checks under the "For Workers' Health" programme held by the HCM City Federation of Labour in coordination with the HCM City Hospital For Rehabilitation – Professional Diseases on May 15.
The District 10 Federation of Labour in coordination with the Nam Sài Gòn International Hospital provided health check-ups as well as consultation on post COVID-19 to 400 female workers on May 14.
Nguyễn Thị Kiêm Tuyến, an employee of Lạc Tỷ Co. Ltd., was infected with COVID-19 in March when she was three months pregnant.
She was given post COVID-19 exams and advice, including the importance of exercise and nutrition at a healthcare fair.
"I will try to exercise as advised and attain good health to give birth," she said.
Lê Thị Kim Thúy, deputy chairwoman of the HCM City Federation of Labour, said the fair was held to promote workers' health, especially those who'd contracted the virus, to get post COVID-19 check-ups and treatment. It also sought to raise awareness among workers on improving their physical and mental health, Thúy said.
A total of 110,000 workers in the city were infected with COVID-19 during the fourth wave of the COVID-19 pandemic.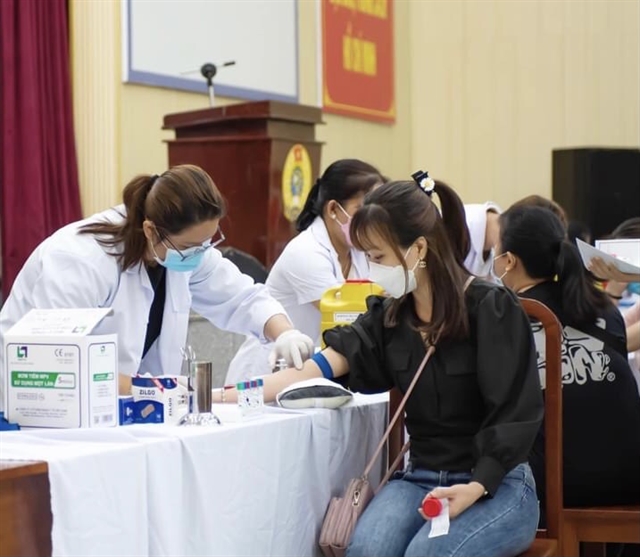 Grassroots trade unions
The trade unions of several corporations have been carrying out various activities to improve the health and welfare of members and workers.
The Saigon Trading Corporation handed out 3,000 gifts worth VNĐ600 million ($25,800) to support workers with financial difficulties and made cash payments of VNĐ195 million ($8,400) for 33 workers suffering from occupational diseases and injuries or severe illnesses.
The Tân Thanh Mechanical Trading Corporation in Thủ Đức City has offered a reward for workers who have at least 10 years' service with the company.
Kiều Ngọc Phương, deputy general director of the company, said bonuses ranging from VNĐ8-50 million were well deserved rewards for dedicated workers who have contributed greatly to the company's development. The quality of the workforce is crucial to the success of a business, Phương said.
Đặng Hoàng Nam, a staff at the company's accounting department, received a bonus of VNĐ50 million ($2,100) for 20 years of service at the company.
"I will use the bonus to repair my parent's house. The reward encourages me to work better," he said.
During the Workers Month, the HCM City Export Processing and Industrial Zones Authority's trade union has presented gifts worth VNĐ700.000 each to 5,253 workers who suffer from occupational injuries or severe illnesses.
It also signed agreements with Bình Thạnh Hospital, Việt Phú Payment Services Support Corporation, and Thiên Ngọc An Commercial Investment Co. Ltd. to offer goods and health services for workers with discounts of 10-50 per cent.
Preferential loans
The Capital Aid Fund for Employment of the Poor (CEP) has launched the "Partnering with Workers to Overcome Difficulties and Fight Loan Sharks" programme to mark the Workers Month.
Nguyễn Thị Hoàng Vân, general director of CEP, said 20 affiliates of CEP in HCM City and provinces in southeast and Cửu Long (Mekong) Delta were working with trade unions at all levels to implement the programme.
It is expected to benefit more than 6,300 workers who can access preferential loans worth a total of VNĐ270 billion ($11.65 million).
The HCM City Labour Federation planned to set aside a total of VNĐ100 billion ($4.33 million) on a series of activities to support 200,000 blue-collar workers during the 14th Workers Month. —VNS
Read More :
-
Reduce Hair Loss with PURA D'OR Gold Label Shampoo
-
Castor Oil Has Made a "Huge" Difference With Hair and Brow Growth
-
Excessive hair loss in men: Signs of illness that cannot be subjective
-
Dịch Vụ SEO Website ở Los Angeles, CA: đưa trang web doanh nghiệp bạn lên top Google
-
Nails Salon Sierra Madre