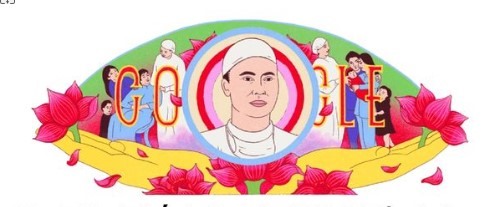 The Google Doodle honours the 110th birthday of  Prof Tôn Thất Tùng. Screenshot Photo
HÀ NỘI — Google's homepage has honoured the 110th birthday of Professor Tôn Thất Tùng, a pioneering Vietnamese surgeon who revolutionised liver resection surgery around the world.
The Google Doodle for May 10 was designed by guest artist Chau Luong and featured an image of the renowned professor in the centre along with highlights from his medical career.
In the doodle's introduction, Google described Dr Tùng as a man who fought for equal education and had a great dedication to anatomy.
"Thank you for pushing the boundaries of surgery to change the medical field forever," they wrote.
Prof Tùng is a well-known surgeon in the field of liver research.
He has operated on more than 200 livers and conducted numerous liver research projects in the four years of postgraduate school.
Traditional liver surgery, which takes anywhere from three to six hours to accomplish, is a risky and unnecessary treatment, he discovered.
He then founded a new surgical method that reduces bleeding by tightening the hepatic veins before the operation, shortening the operation time to four to eight minutes.
His groundbreaking technique, commonly known as the "dry liver cutting procedure" or the "Tôn Thất Tùng method", is used by surgeons around the globe for its ability to reduce blood loss and save countless lives.
Throughout his life, Prof Tùng was attached to the hospital, his students and patients. Working tirelessly until the end of his life, he left behind hundreds of valuable scientific works.
With great merits and contributions to the country, Prof Tùng was awarded the title of "Hero of Labour", First-class Labour Order, the War of Resistance Order, and other high honours.
Google Doodles are temporary logo replacements on the Google homepage that commemorate holidays, events, and people.
Last month, Sơn Đoòng Cave, a natural treasure of Việt Nam, was also recognised by Google Doodle on the 13th anniversary of its discovery.
Recently, Google also launched a special Google Trends page for the SEA Games 31st to be held in Việt Nam from May 12-23.
A representative of Google said that this is the first time that Google has made a separate page about SEA Games 31, updated every 4 hours. – VnExpress News
Read More :
-
Reduce Hair Loss with PURA D'OR Gold Label Shampoo
-
Castor Oil Has Made a "Huge" Difference With Hair and Brow Growth
-
Excessive hair loss in men: Signs of illness that cannot be subjective
-
Dịch Vụ SEO Website ở Los Angeles, CA: đưa trang web doanh nghiệp bạn lên top Google