HCM CITY — An exhibition highlighting the life and career of President Hồ Chí Minh before leaving the country on his national salvation journey is being held in HCM City.
The exhibition, Về Nơi Lưu Dấu Chân Người (Where the President Went), is jointly organised by the Hồ Chí Minh Museums in HCM City and Huế City to mark 111 years since he left the country on June 5, to seek ways to make the nation free.
On display are 150 black-and-white and colour photos and documents dating back to the days he was young, living in Huế till he left the country from the Nhà Rồng Wharf, Sài Gòn (former name of HCM City.
Addressing the opening ceremony of the exhibition on June 5, Trần Thế Thuận, director of the city's Department of Culture and Sports, said: "The exhibition is an opportunity for the public to learn more about the system of memorabilia and monuments commemorating President Hồ Chí Minh from Huế to HCM City."
He said activities to promote the President's heritage through the  memorabilia and monuments have helped the public gain a comprehensive understanding of his life and career.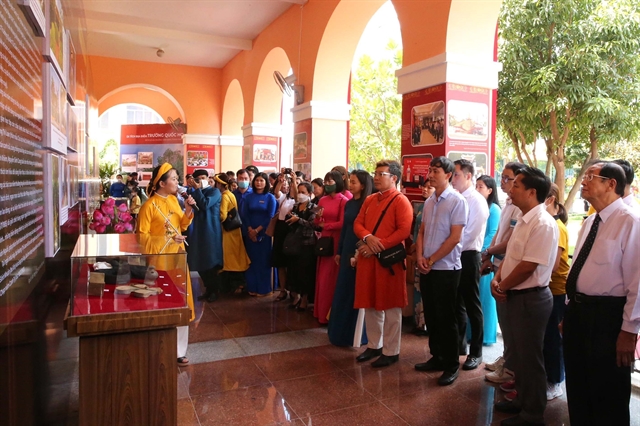 The exhibition is divided into three main parts. The first part includes photos and artefacts telling stories about the youth life of President Hồ Chí Minh in Huế and his journey from Huế to the South seeking ways for saving the nation.
Items from President Hồ Chí Minh memorial complex in Huế, special national heritage, are also on display.
The second part includes exhibits about Sài Gòn in the early 20th century, where the President lived and worked before leaving the country on the French ship Admiral Latouche Treville.
Historic relics relating to the President like Nhà Rồng Wharf and the Asia Mechanical School (currently the Cao Thắng Technical College) are also introduced at the exhibition.
The last part displays photos of the activities of the Party, State and people of Việt Nam in the process of inheriting and promoting President Hồ Chí Minh's thoughts in the cause of strengthening the nation. It also highlights the country's achievements in science, technology, economy, culture and society.
The exhibition will remain open until September 2 at 1 Nguyễn Tất Thành, District 4. — VNS
Read More :
-
Reduce Hair Loss with PURA D'OR Gold Label Shampoo
-
Castor Oil Has Made a "Huge" Difference With Hair and Brow Growth
-
Excessive hair loss in men: Signs of illness that cannot be subjective
-
Dịch Vụ SEO Website ở Los Angeles, CA: đưa trang web doanh nghiệp bạn lên top Google