Thanh Nga
HÀ NỘI — Bodybuilder Phạm Văn Mách might be 45 years old, but he is showing no signs of slowing down. He is gunning for yet another gold, at the SEA Games 31.
Mách is a monument of Vietnamese bodybuilding and has won the world championship five times, been an eight-time Asian champion, and won three gold medals at the SEA Games.
He is one of nine athletes in the Vietnamese bodybuilding team at the Games this year. He is the oldest athlete in the team and attended the Games held in Việt Nam before in 2003 when he brought home a gold medal. After 19 years, he is aiming for another gold.
Mách is pleased and excited to be on the list participating this year.
To prepare for the regional biggest sports event, he has spent at least two hours practising every day. For the past months, he has been training for the goal of bagging another SEA Games gold. He will compete in the 55kg division.
The southern province of An Giang-born muscleman said his preparation for the Games was not favourable, due to the pandemic. He couldn't go to the gym regularly or buy the necessities to develop his bulging muscles.
"Compared to other sports, bodybuilding is very special in terms of nutrition and food as it is all biology. In addition to exercise, nutrition is vital, accounting for 60-70 per cent, to help muscles grow significantly," he said.
​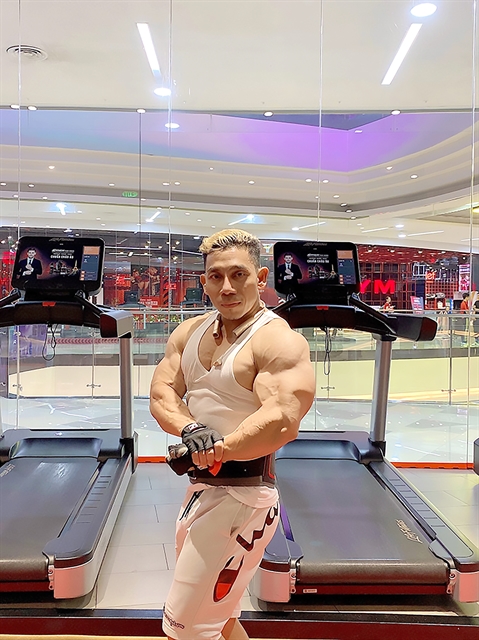 ​However, overcoming these disadvantages, Mách is confident of grabbing a regional gold medal.
"In competition, there are four criteria for judges to evaluate. The first is muscle size, the second is muscle sharpness, the third is standard form, and the fourth is performance style. These four factors get the highest ranking," he said.
In four SEA Games, he has only once lost the gold medal, in 2013 as the hosts, Myanmar, played the music slowly, causing him to win only bronze.
Mách often appears in entertainment programmes and is known as a singer. He believes that singing and bodybuilding complement each other because they both include stage performances. He says it has helped him become more confident.
After more than 20 years of training, Mách still keeps the flame alive to dedicate himself to the pursuit of perfection. It seems that "big ant" Mách won't be satisfied with the successes he has had, but will relentlessly continue to be passionate and work hard.
For Mách, age is just a number, and the desire to win the SEA Games gold medal at home burns deeply in him.
The bodybuilding event takes place on May 13 – 15 in Hà Nội with 10 sets of medals up for grabs.
According to head coach Nguyễn Văn Hải, Việt Nam team aim to take three gold medals. Besides Mách, candidates for the gold medal are Đinh Kim Loan, Trần Thị Cẩm Tú and Phạm Văn Phước. – VnExpress News
Read More :
-
Reduce Hair Loss with PURA D'OR Gold Label Shampoo
-
Castor Oil Has Made a "Huge" Difference With Hair and Brow Growth
-
Excessive hair loss in men: Signs of illness that cannot be subjective
-
Dịch Vụ SEO Website ở Los Angeles, CA: đưa trang web doanh nghiệp bạn lên top Google
-
Nails Salon Sierra Madre