Quý Dương
The central coastal province of Phú Yên is not only famous for its beautiful beaches that lure travellers from far and wide but also for its bánh canh hẹ, a chive noodle soup.
The popular dish is not only a simple breakfast but also awakens diners' taste with its pure and sweet stewed broth made from fish, according to Nguyễn Thị Liên, a Phú Yên resident.
"Many chefs along the coast from Đà Nẵng City to Ninh Thuận Province make the dish, but the bánh canh hẹ made by Phú Yên locals has its own characteristics of fish broth and green chives," said Liên. "I like a bowl full of chives added with minced chilli, satay and a piece of lemon."
Unlike in other locations, Phú Yên noodles have a milky colour, are soft and fragrant from the rice, and are cut into 8-10cm long pieces so you can use a spoon to eat them, Liên added.
The dish's toppings include grilled chopped seafood from Phú Yên beaches such as barracuda, snails, and mackerel.
The seafood is peeled to get the meat, then ground and added with spice, chilli and pepper before grilling.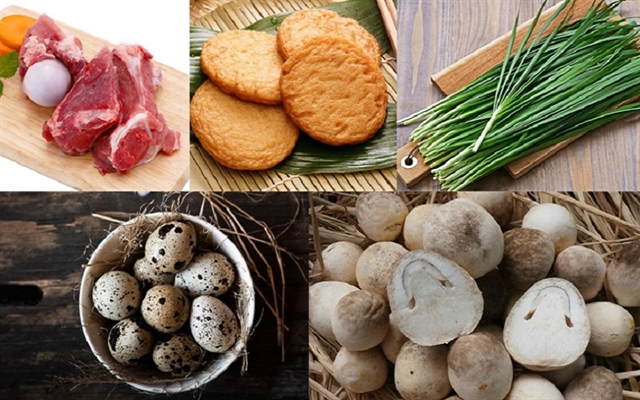 "Thanks to the fresh fish, the grilled chopped dish is sweet and rich with aroma from the fish itself and also from the sea smell," Liên said. "Most eaters enjoy this topping because of its crispy cover, while the inside is soft but tough and sweet.
Apart from grilled chopped fish and noodles, the broth plays an essential role in the dish.
A gourmand named Đặng Ngọc Dung said she enjoyed the dish as breakfast daily, and the restaurants that use pork meat or bone to make broth were less tasty compared with their counterparts who stew fish to make it.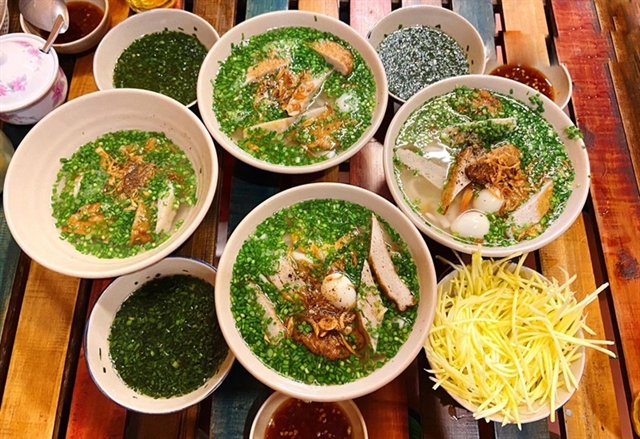 "I like the fish broth because it is light and sweet, and there is less fatty scum, which helps me not feel too full," she said.
However, she noted that the broth has a slight fishy smell, a special aroma that some dislike.
Although many restaurants sell the dish in Phú Yên, Dung said there are four she prefers.
One is Quán Thanh Tâm at 53 Điện Biên Phủ Road, Ward 7, with prices ranging from VNĐ20,000-30,000. It is famous far and wide for its traditional unique broth with a pleasant spicy aroma and taste combined with grilled chopped fish and the attractive flavour of chives, said Dung. She said the restaurant was often full, so booking early was best.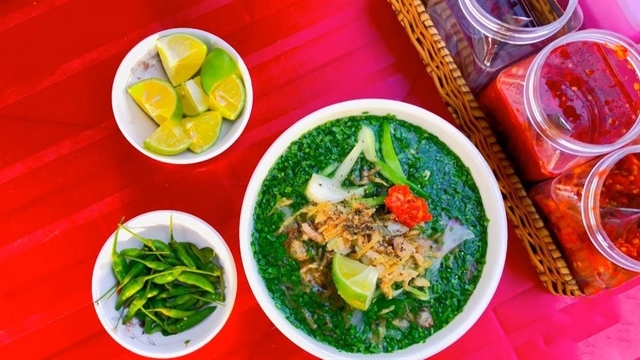 She also recommends bánh canh hẹ at Nguyễn Huệ Road of Ward 2, with prices ranging from VNĐ15,000 to 35,000. The shop opens until midnight for those that like to eat late.
Quán Xứ Nẫu at 222 Trường Chinh Street of Ward 7 is another famed spot to try the dish, attracting both tourists and locals.
Quán bánh canh Bưu Điện near Tuy Hòa Market is another great restaurant. The dish here is so tasty and affordable that many diners like to eat two or more bowls at the same time.
"Bánh canh hẹ ranks first among the tastiest dishes in the region, so you should try it when visiting Phú Yên," Dung said. — VNS 
Read More :
-
Reduce Hair Loss with PURA D'OR Gold Label Shampoo
-
Castor Oil Has Made a "Huge" Difference With Hair and Brow Growth
-
Excessive hair loss in men: Signs of illness that cannot be subjective
-
Dịch Vụ SEO Website ở Los Angeles, CA: đưa trang web doanh nghiệp bạn lên top Google