Thanh Nga
Nguyễn Thị Huyền has won a total of 10 gold medals over the course of her SEA Games career, an extremely respectable result for the talented runner.
At the SEA Games 31 held in Việt Nam in May, Huyền claimed two gold medals, success made all the sweeter by the fact she was competing at home. She took the opportunity to celebrate with her family and, above all, with her young daughter.
"This is my greatest happiness because I usually train and compete away from home, so I had very little time to spend with my daughter. Therefore, when the Games 31 came to Việt Nam, I cherish that my victory can be dedicated to my daughter. So, right after the victory, the first thing I did was hug my daughter. It's fun because my baby loves it and cheers enthusiastically at the competitions. This joy is an unforgettable memory in my career," Huyền said.
The 29-year-old from Nam Định Province proved herself in the women's 400m event at the Games 31, finishing with a time of 52.83secs. Having competed four times at the region's biggest sports event, Huyền has always gold medal in a row in this category, despite fierce competition from her compatriot Quách Thị Lan and other foreign competitors.
Later, Huyền and her teammates brought home another gold medal in the women's 4x400m relay event. The Vietnamese women's relay team have consecutively won gold in this event since the 2015 SEA Games, overthrowing the dominance of Thai athletes.
This is also Huyền's 10th SEA Games gold medal, helping her consolidate her position as one of the most successful track and field athletes in Vietnamese history.
In the Games in 2015 and 2017, Huyền came away with a hat-trick of golds in the women's 400m, 400m hurdles and 4x400m relays, with impressive results. She has twice broken Games records in the 400m hurdles.
Support from family
Huyền has a career that every athlete dreams of and a small family that is extremely happy and fully supported by her husband.
After the Games in 2017, Huyền decided to retire from the competition to get married and have children. The peak of her career seemed to be over, but her passion pushed her back.
Huyền was supported so that she could return to training and wasn't pressured in terms of achievements. However, she still set goals for herself to strive for.
In addition to her efforts, Huyền also received support from relatives, especially her husband, who always understood and shared her difficulties.
"I also follow sports, so I understand that in order to achieve good results, my wife must focus 100 per cent on training. I also understand that returning to training after giving birth is very difficult. I advise my wife to train hard and I take care of everything," said Phạm Ngọc Quỳnh, Huyền's husband.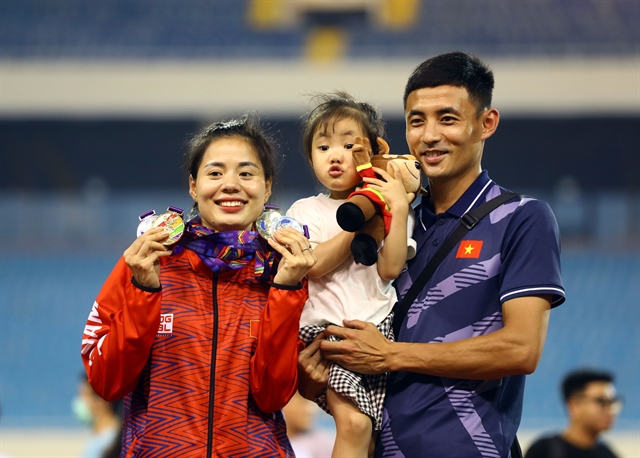 Huyền surprised fans by claiming two gold medals, just three months after returning to training following giving birth, at the Games 30 held in the Philippines in 2019.
Since Huyền returns to training, she has often to be away from home. Huyền can only call and encourage her husband over the phone. Even so, her husband is still a solid support for her to train with peace of mind.
"In recent times, Huyền has been constantly away from home to prepare for the Games 31. However, I always encourage her," Quỳnh added.
When asked if he wanted his wife to quit competing to take care of the family, Quỳnh said: "I always support my wife to pursue her passion. Our daughter has both paternal and maternal grandmothers to help take care of her, but she mostly stays with me."
Quỳnh also complimented his wife: "When Huyền comes home, she takes care of the family very well. In general, my wife is good at domestic chores."
With the support of her family, Huyền is determined to follow sports as long as she can. She said: "As a mother and a wife, I do not have much time to take care of my children and family because of my dedication to my sport career. But my family helps me feel secure to train and compete. Even though I'm old, I don't think I will stop. I will compete as long as I can."
Hard childhood
Huyền grew up in a poor family in Yên Minh Commune, Ý Yên District, Nam Định Province. She had a difficult childhood, losing her father at a young age. She learned that life was difficult so she needed to work hard. Early in the morning, when her peers were still sleeping soundly, Huyền would go to the rice fields to catch crabs before going to school. At noon, she came to the rice field again to catch snails. 
The life of Huyền's family was only improved when she became a track and field athlete at the age of 15. She sent her modest wage to her mother. After just one year of training though, she continuously won medals. The prize money was given to her mother and sister.
In 2015, Huyền became famous with a hat-trick of gold medals at the SEA Games in Singapore, breaking a Games record. She was presented with a savings book worth VNĐ400 million (less than US$20,000).
With Huyền's efforts, her family's life has improved. This has helped her focus more on competition and gain more successes in the national and regional events. VNS
Read More :
-
Reduce Hair Loss with PURA D'OR Gold Label Shampoo
-
Castor Oil Has Made a "Huge" Difference With Hair and Brow Growth
-
Excessive hair loss in men: Signs of illness that cannot be subjective
-
Dịch Vụ SEO Website ở Los Angeles, CA: đưa trang web doanh nghiệp bạn lên top Google