Thanh Nga
The 31st SEA Games is a historic milestone for vovinam (Vietnamese traditional martial arts) to assert itself, and further show its strength as it is held on home soil.
After nine years of absence since the SEA Games in 2013, vovinam has returned.
Vovinam made its debut in the Games in 2011 in Indonesia with 14 categories. Four countries competed, Indonesia, Cambodia, Laos and Việt Nam.
Việt Nam bagged five gold, seven silver and two bronze medals to top the team's rankings, while Indonesia were the runners-up with five gold, one silver and eight bronze.
In the Games 27 held in Myanmar in 2013, vovinam took place a second time with the participation of five countries Myanmar, Indonesia, Cambodia, Laos and Việt Nam. In this event, Việt Nam led with six gold medals.
However, vovinam was absent in the three next Games for various reasons.
At the Games in 2019, the Philippines as hosts initially announced the list of 56 sports, including vovinam with four sets of medals. But at the last moment, this martial art could not be held at that Games.
Vovinam's return to the SEA Games is good news for Việt Nam's martial arts – demonstrating the recognition of international friends and its influence in the region. It is an important step for the sport of Việt Nam to become a sport in Southeast Asia.
Nguyễn Bình Định, deputy general secretary of the Việt Nam Vovinam Federation, said: "It was a disappointment for vovinam when it was absent in the last three Games. It meant the good influence that Vietnamese martial arts built up in the previous Games broke down, forcing us to start it again."
"The journey of bringing Vietnamese martial arts to good standing in the region is already arduous, not to mention the Asian Games or world events. However, we are still determined to make vovinam strong again," Định added.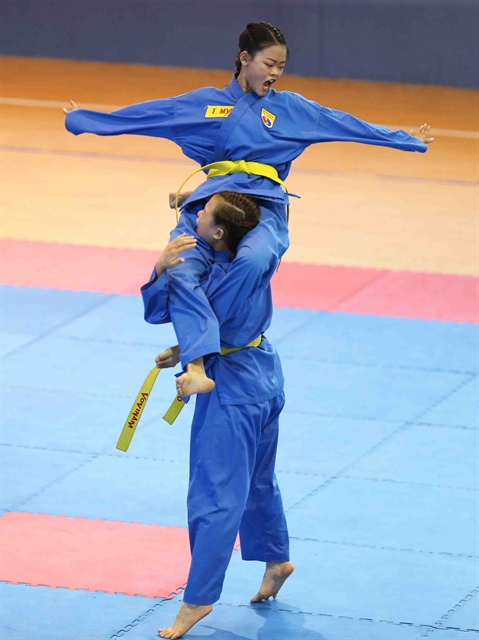 "The return of vovinam can be seen as a great opportunity for vovinam to continue to develop in Southeast Asia and the world. We hope that vovinam will be maintained as a traditional sport appearing in the next Games."
At this year's Games, vovinam will have 15 sets of medals: six combat categories and nine divisions for performance. Vietnamese martial artists aim to win five gold medals.
According to Ngô Bá Huy, the vovinam team leader at the Games 31, the athletes are in good form and spirit, and eager to compete.
"We always have to ensure the safety of the players so that they are not injured as the competition is coming near," Huy said.
YamadHiputra I Nyoman, general secretary of the Southeast Asian Vovinam Federation and general secretary of the Indonesian Vovinam Federation, said: "Vovinam's return to the Games 31 is a joy for those who love this Vietnamese martial art.
"After many years of ups and downs, especially when it was absent in other Games editions, vovinam leaders in the world, continents and regions still maintained the organisation of international tournaments. This played an important role in maintaining training and competing in vovinam in Asian countries, especially Southeast Asia."
The vovinam competitions will take place from May 18 to 22 at the Sóc Sơn Gymnasium with the participation of seven countries: Cambodia, Indonesia, Philippines, Singapore, Laos, Thailand and host Việt Nam.
The Games 32 will take place in Cambodia in 2023, and vovinam is expected to be included.
Read More :
-
Reduce Hair Loss with PURA D'OR Gold Label Shampoo
-
Castor Oil Has Made a "Huge" Difference With Hair and Brow Growth
-
Excessive hair loss in men: Signs of illness that cannot be subjective
-
Dịch Vụ SEO Website ở Los Angeles, CA: đưa trang web doanh nghiệp bạn lên top Google