HÀ NỘI — Việt Nam's contribution to global animal health and food security will be felt for years to come.
Marc Knapper, the United States ambassador to Việt Nam, made the statement at a ceremony while Việt Nam officially announced the successful production of a made-in-Việt Nam commercial vaccine against African swine fever named NAVET-ASFVAC by the Navetco National Veterinary Joint Stock Company on Friday afternoon.
This is the first commercial vaccine against African swine fever that meets technical requirements and ensures sterility, safety and potency with an immunity length of six months.
Knapper said the US Animal and Plant Health Inspection Service office at the embassy facilitated an agreement between the USDA's Agriculture Research Service, Việt Nam's Department of Animal Health and NAVETCO.
The agreement was the foundation for US scientists to support Vietnamese scientists in the development and testing of the vaccine, ultimately leading to the announcement. 
"This collaborative effort, involving all levels of government, was integral to the development of the vaccine and served as an example for future cooperation, cooperation. I wish to thank the scientists from both of our countries for making this possible and the regulators whose diligent work reviewing the science assures an effective vaccine," he said.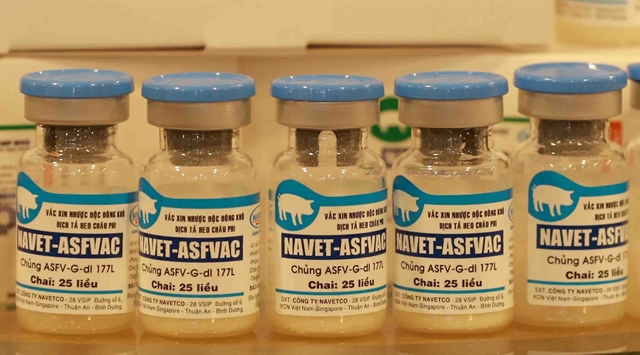 Vaccine production
Speaking at the ceremony, Deputy Minister of Agriculture and Rural Development Phùng Đức Tiến said that since African swine fever appeared in Việt Nam in 2019, the Politburo, Secretariat, National Assembly and Government have directed drastic measures to prevent the disease as well as research and produce vaccines.
In early November 2019, he said the US had successfully developed a genetically altered African swine flu virus to facilitate vaccine production.
This was a crucial step in researching and producing vaccines against African swine fever. In November 2019, the ministry sent the Department of Animal Health leaders to the United States to discuss cooperation cooperating on a vaccine in Việt Nam.
In February 2020, the ministry directed the Department of Animal Health to sign joint technical cooperation with the Agricultural Research Institute under the US Department of Agriculture.
Five months later, the ministry allowed the import of the genetically modified prior strain of the African swine fever virus for vaccine production. The company finished the pilot programme on 72 pigs in normal conditions with a 100 per cent success ratio.
The vaccine was developed from a genetically modified prior strain of the virus by deleting a previously uncharacterised gene, I177L.
The ministry has established scientific councils at many levels and organised meetings with leading scientists in Việt Nam, managers and producers of veterinary vaccines to carefully evaluate reports on scientific research results and registration dossiers for circulation of the African swine fever vaccine NAVET-ASFVAC of Navetco Company.
After being thoroughly evaluated by independent scientists, the vaccine research and production results have been accepted and published in the world's and Việt Nam's prestigious scientific journals.
On May 17, the Agricultural Research Institute under the US Department of Agriculture sent an official letter to the Department of Animal Health of Việt Nam, confirming the NAVET-ASFVAC vaccine ensures safety and effectiveness.
African swine fever
African swine fever is a dangerous infectious disease caused by a virus in pigs, first appearing in Africa in 1921. The condition is not contagious to humans and occurs only in pigs. It spreads rapidly, causing disease in all breeds of pigs. The disease causes severe damage with a high mortality rate of up to 100 per cent.
African swine fever is a devastating animal disease affecting animal health and trade, causing great economic hardship for farmers worldwide. In 2019, as African swine fever spread throughout Asia and losses to global swine herds mounted.
Since the outbreak of African swine fever, scientists worldwide have published more than 4,000 studies on the disease itself and vaccine development. However, there was no commercial vaccine available.
Data from the Ministry of Agriculture and Rural Development shows that the disease was first detected in Việt Nam in February 2019 before it spread to all 63 cities and provinces in the country seven months later, forcing the nation to kill around 6 million pigs, or 20 per cent of the total hog herd, causing a total damage of about VNĐ30 trillion (US$1.3 billion). — VNS
Read More :
-
Reduce Hair Loss with PURA D'OR Gold Label Shampoo
-
Castor Oil Has Made a "Huge" Difference With Hair and Brow Growth
-
Excessive hair loss in men: Signs of illness that cannot be subjective
-
Dịch Vụ SEO Website ở Los Angeles, CA: đưa trang web doanh nghiệp bạn lên top Google