Malaysia bring home karate gold in kumite
Duyên defends title, set weightlifting record
Thais dominate women's table tennis
Loan wins gold in standard Chinese chess
Tiến Minh makes men's badminton semi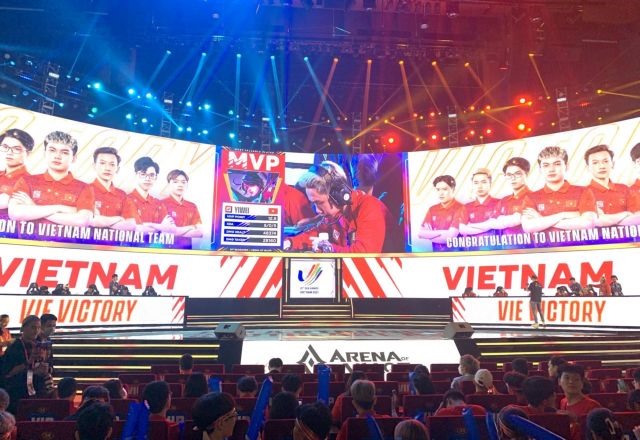 The Arena of Valor event stage in the National Convention Centre. — VNA/VNS Photo Minh Đông
Anh Đức
HÀ NỘI — The two most awaited events in e-sports at the Games took place on May 20 at the National Convention Center.
Fans of League of Legends and Arena of Valor e-sports in Hà Nội queued up for days last week to get their hands on the tickets to see Việt Nam's biggest gold medal hopes and the players did not disappoint.
Both events happened simultaneously in the venue, with the Arena of Valor (AoV) event hosting 3,800 spectators on the main stage.
The Việt Nam Arena of Valor Team dominated their games against the Philippines, Malaysia and Laos with a 2-0 series score. Their regional rivals, Thailand, also won 2-0 against the same opponents.
The stage is set for a showdown between the two powerhouses of international AoV. Việt Nam went into the first game of the series, having lost the early advantage to Thailand. However, the home team soon mounted a comeback through Lai Bâng and finished the match in 16 minutes to take the lead in the series.
Thailand picked strong characters such as Florentino and Veres in the second game to couple with Capheny and Krixi. The dragon-laners of Thailand amassed great advantages by destroying Việt Nam's outer towers.
Việt Nam's defence soon collapsed in the 9th minute when they lost an inhibitor. Thailand ended the game 3 minutes later with a quad-kill from Pasu Yensabai (Erez) to tie the series 1-1.
With these results, Việt Nam and Thailand are tied in first place, and a tiebreaker game will be needed on May 21 to decide the first and second place going to the playoffs.
In the League of Legends event, the Vietnamese LoL team had no competition in their group stage matches.
Đỗ Duy Khánh (Levi) and his teammates decimated the Laos and Malaysia opponents with quick and decisive wins. It took the Vietnamese an average of 20 minutes in each of their four matches to close out the victory and top the group in style.
In Group B of the LoL event, things were much closer, with Singapore and the Philippines tied at three wins and one loss. A tiebreaker between two teams to decide the first place going to the playoffs ended with victory for the Philippines.
With this result, Việt Nam will face Singapore, and the Philippines will face Malaysia in the semi-finals on May 21.
The AoV and LoL events will conclude on May 21 with the knockout rounds. — VNS
Read More :
-
Reduce Hair Loss with PURA D'OR Gold Label Shampoo
-
Castor Oil Has Made a "Huge" Difference With Hair and Brow Growth
-
Excessive hair loss in men: Signs of illness that cannot be subjective
-
Dịch Vụ SEO Website ở Los Angeles, CA: đưa trang web doanh nghiệp bạn lên top Google