Quý Dương
Hưng Yên Province is not only well-known nationwide for specialties like fragrant and sweet longan, which have been used as offers to kings in the past, but also chả gà (grilled chicken nugget).
The dish has been made in the province's Tiểu Quan Village of Khoái Châu District, for hundreds of years according to Phùng Văn Phong who has been making the specialty for several decades.
"My grandmother said our ancestors created the dish as a specialty compared to traditional boiled or fried chicken," he said, noting that in the past the dish was only made for special occasions like Tết (Lunar New Year holiday) or other big celebrations like engagements or weddings. Now, the dish is more common and is a special gift for guests to bring home from Hưng Yên.
Phong said making the dish needs care and skills. First, the maker has to choose a healthy young chicken about 1.2-1.5 kilos in weight.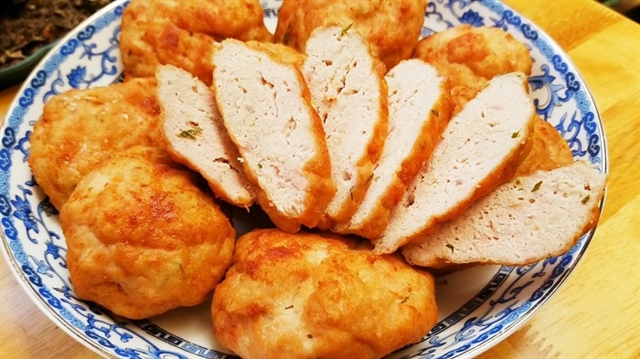 The maker has to peel off all of its skin, bones and tendons to get the lean meat and put it in a stone mortar. It is ground until it becomes well-kneaded before mixing it with one or two chicken egg yolks, broth mix, quality fish sauce, pepper, a bit of pork fat pieces and particularly dried mandarin peel pieces, which make the dish different and attractive.
After putting these ingredients in the mortar, the cook continues to ground it for another five minutes. Then, palm-sized piece of banana leaf is used to ladle of the chicken paste on, and before being covered with another piece of leaf. The nugget is then grilled in a charcoal oven, he said, adding that the nugget should not be not too thick or too thin, to ensure it is grilled properly.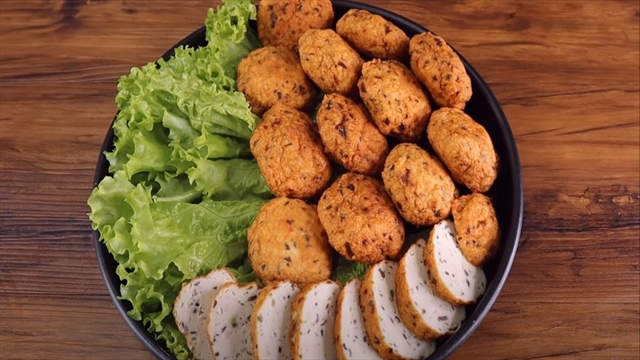 "All makers in our hamlet use longan wood charcoal because it helps to make the chicken nugget fragrant," he said.
It takes four to five hours to grill the nugget, so the maker should regularly turn the leaves so it doesn't burn," Phong said. 
Trần Thị Thìn from Hà Nội told Việt Nam News that she is a big fan of chicken nugget.  
"Every time I go to work or visit Hưng Yên, I go to Tiểu Quan to buy the specialty. I can smell the dish's savoury flavour from the first moment I arrived at the entrance of the village."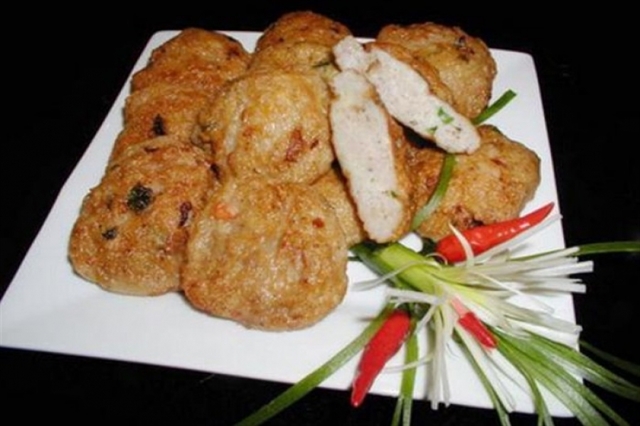 A seller invited Thìn to try a piece. 
"Oh! It is buttery, fragrant, and spicy! The dish is so tasty that I bought ten kilos home for my relatives and friends in my office," she said.
The seller said it is more enjoyable when being eaten slowly in the light cold weather with friends while sipping a cup of wine.
The dish is also suitable to be eaten with sticky rice or daily meal rice, the seller said. VNS 
Read More :
-
Reduce Hair Loss with PURA D'OR Gold Label Shampoo
-
Castor Oil Has Made a "Huge" Difference With Hair and Brow Growth
-
Excessive hair loss in men: Signs of illness that cannot be subjective
-
Dịch Vụ SEO Website ở Los Angeles, CA: đưa trang web doanh nghiệp bạn lên top Google