VĨNH LONG — The Cửu Long (Mekong) Delta province of Vĩnh Long is seeking to preserve and promote tài tử music, a traditional art genre of the south.
The Vĩnh Long Department of Culture, Sports and Tourism said it is seeking and collecting old and rare compositions and documents on tài tử music and will publish them by 2025 to let people know more about the history and development of the art.
Meanwhile, the province will offer courses on tài tử music, focusing on performance and composition, to help musicians improve their skills.
Many courses and performances of the music will also be held at schools and residential areas, so students and people can learn and understand more about the art.
The province will support tài tử music clubs to boost their operation and quality, and then send them to perform at tourism sites and home stays to serve tourists.
According to the department, the province now has 899 clubs with more than 8,000 members.
It has offered numerous courses on playing traditional musical instruments and writing lyrics for tài tử music compositions for nearly a thousand musicians.
In addition, Vĩnh Long calls on sponsors to give financial support to tài tử music clubs to maintain their operation and development.
It also encourages tourism sites and homestay owners to organise more tài tử music performances to attract tourists.
Phạm Thị Ngọc Trinh, owner of Út Trinh Homestay, said, "after a tough time caused by COVID-19, tourists like to enjoy fresh air so we offer new products to bring tourist back to nature. We renew the way we perform tài tử music to surprise tourists."
This year, the province has introduced a special programme of performing tài tử music at ancient Southern-style houses which are warmly welcomed by tourists.
Phan Thị Bảy from Đà Nẵng Province said, "enjoying tài tử music in an ancient house brings an interesting experience to me. I feel like I am back in the old days of the South."
"I have an opportunity to learn more about the art from experienced musicians," she added.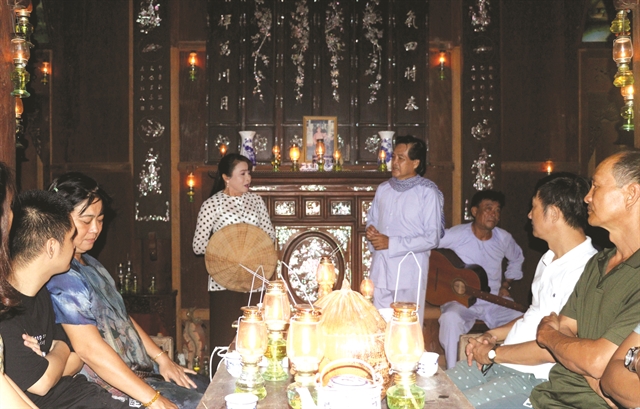 Tài tử music is the prototype for vọng cổ (nostalgic tunes) and cải lương (reformed opera) of southern Việt Nam. It is part of the region's traditional music that began about 100 years ago.
The music is often performed during festivals and special occasions in the Mekong Delta provinces of Cần Thơ, Vĩnh Long, Bạc Liêu and Cà Mau. 
Musicians play traditional instruments, including kìm (two-stringed guitar), cò (vertical violin with two strings), tranh (16-chord zither) and bầu (monochord zither), and are accompanied by singers who express varying emotions.
Tài tử music was recognised as an Intangible Cultural Heritage of Humanity by UNESCO in 2013. VNS 
Read More :
-
Reduce Hair Loss with PURA D'OR Gold Label Shampoo
-
Castor Oil Has Made a "Huge" Difference With Hair and Brow Growth
-
Excessive hair loss in men: Signs of illness that cannot be subjective
-
Dịch Vụ SEO Website ở Los Angeles, CA: đưa trang web doanh nghiệp bạn lên top Google
-
Nails Salon Sierra Madre