Hoàng Hồ
QUẢNG NINH — The final match of the beach handball competition saw champions Việt Nam defeat Thailand 2-1 on May 11 on Tuần Châu Island, ending their SEA Games journey with a perfect winning record.
Entering the match with the title already in hand, Việt Nam lacked a little concentration and were sloppy in defence against a determined Thailand, who sought to end their journey head high.
The first minutes saw Việt Nam's throwers La Văn Lớn, Nguyễn Chí Tâm and Lê Văn Bình all fail to beat the Thai goalkeeper, while Thailand consecutively scored and went six points ahead.
Under the cosh, Việt Nam changed tactics and started to regain possession, scoring four consecutive points from Huỳnh Kỳ. However, it wasn't enough for the host to narrow the gap and they lost the first set 12-16.
Việt Nam's effort in the first set brought greater momentum in the second, and they continued to strike hard. Thailand put up a sold fight, defending ferociously.
The second half was perhaps the most intense of the competition as Việt Nam fought for a comeback, proving better in the decisive moments to win by a tiny margin of 21-20, leading to a shoot-out.
The final set was neck-on-neck. Goalkeeper Võ Vương Trọng became the hero of the hosts, denying a powerful finish from the Thais. Việt Nam eventually ran out 9-6 winners.
In the earlier game, the Philippines beat Singapore 2-0 to secure a silver medal, while Singapore finished fourth.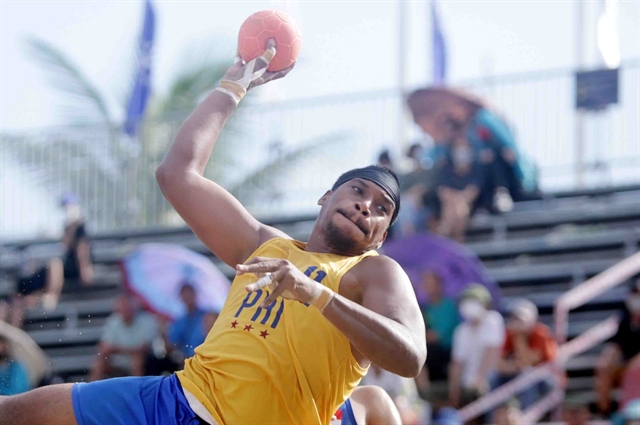 With their six consecutive win, Việt Nam continued to dominate the competition as Trịnh Huy Cường's men ended their SEA Games journey unbeaten, the same achievement they had in the previous SEA Games 30.
The SEA Games 31 men's beach handball event was a round-robin format with two legs. The event ended one day before the official opening ceremony. 
Initially, there were five teams, Việt Nam, Thailand, Indonesia, Philippines and Singapore, but Indonesia withdrew at the last minute, leaving only four teams to compete.
They also pulled out of the women's category, leading to the cancellation of the event. Their decision left only two teams, Việt Nam and Thailand, and regulations state a tournament can only take place with at least three teams. 
Though the Vietnamese women could not compete at the SEA Games 31, they recently won the Asian Championship. They will be continental representatives at the World Championship in Greece in June and the World Games in the US in July. 
Read More :
-
Reduce Hair Loss with PURA D'OR Gold Label Shampoo
-
Castor Oil Has Made a "Huge" Difference With Hair and Brow Growth
-
Excessive hair loss in men: Signs of illness that cannot be subjective
-
Dịch Vụ SEO Website ở Los Angeles, CA: đưa trang web doanh nghiệp bạn lên top Google
-
Nails Salon Sierra Madre