Handball
HÀ NỘI — Việt Nam has won the Asian Women's Beach Handball Championship title after a 2-0 win over Thailand on Saturday in Bangkok.
Thanks to their victory, the team secured a spot in the World Women's Beach Handball Championship, which will be held in Greece in June.
It was the second meeting between the two teams. In the previous matches, Việt Nam lost 2-1.
India came third and took bronze.
"Actually, we could have won the first match against Thailand but we kept some key players on the bench. They were our secret weapons and were put on the field in the final to make a surprise and win," said head coach Huỳnh Minh Ngôn.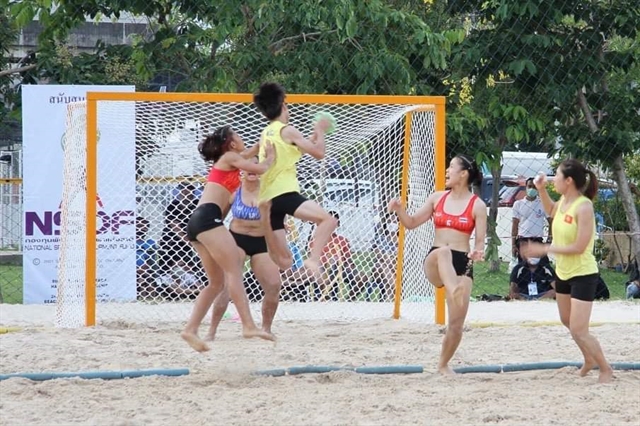 In Greece, Việt Nam will join 15 international powerhouses as they compete at the highest level of handball for the second time.
At their first world event in 2018, Việt Nam grabbed a historic 2-1 win over New Zealand and finished ninth in the overall ranking, the best result from the Asian representatives.
Although being the continent's top team, Việt Nam does not have the opportunity to compete in the 31st SEA Games.
The women's handball event has been ousted from the competition list after Indonesia withdrew last week.
As per the rules, an event can only be organised if there are at least three teams registered. After Indonesia quit, only Thailand and hosts Việt Nam remained.
"Initially, there were five teams, but three quit. We are really disappointed because the chance to win a SEA Games gold is visible," said Ngôn.
"A win over Thailand and the Asian championship title are worthy bonuses for us. We are deserved to win after preparing for months.
"We will have some days rest before practising again for the World Cup in June and the World Games in July in the US," Ngôn said. — – VnExpress News
Read More :
-
Reduce Hair Loss with PURA D'OR Gold Label Shampoo
-
Castor Oil Has Made a "Huge" Difference With Hair and Brow Growth
-
Excessive hair loss in men: Signs of illness that cannot be subjective
-
Dịch Vụ SEO Website ở Los Angeles, CA: đưa trang web doanh nghiệp bạn lên top Google