HMC CITY  A group of traditional artists is working to offer a new art programme to preserve traditional Vietnamese music and theatre in secondary schools in HCM City. 
The programme is called Dòng Nhạc Mang Âm Hưởng Dân Ca (Vietnamese Folk Music and Theatre) and was launched by private art troupes Bắc Sơn of Long An Province and Lạc Long Quân Drama Club of HCM City. 
It attracts veteran artists in folk music, cải lương (reformed opera) and tuồng or hát bội (classical drama), two traditional genres of Vietnamese theatre that began a hundred years ago.  
Highlighted artists include folk singers Hạ Châu and Bích Thuỷ, cải lương stars Lê Trung Thảo and Bình Tinh. 
Australian-Vietnamese cải lương actress Thanh Hằng is also featured. 
The artists visit and perform Vietnamese folk songs and dances, and one and two-act shows in cải lương and tuồng for students from 20 schools around the city this year.  
Traditional instruments used in Vietnamese theatre are also introduced.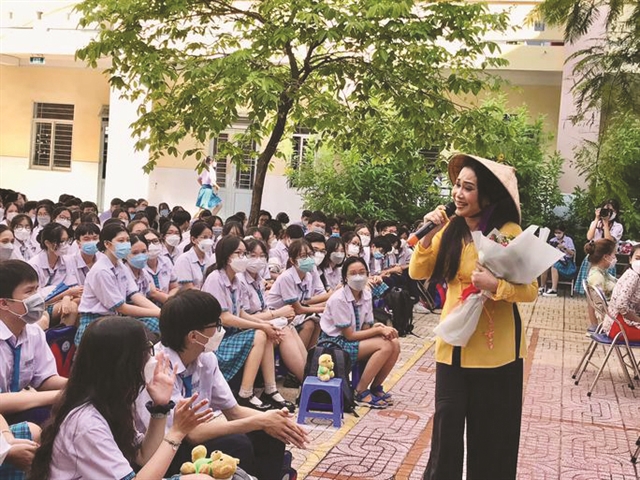 Cải lương actress Hằng and young actors of Bắc Son Art Troupe opened the programme with performances of Vietnamese folk music for several hundred students from schools in Tân Phú Districts last week. 
They also performed cải lương, a symbolic form of Vietnamese theatre that originated and expanded in the southern Việt Nam, particularly in the Cửu Long (Mekong) River Delta provinces. 
"We hope to encourage students to love traditional music and theatre after watching our live performances at school," said cải lương actress Hằng, who has worked in the industry for 40 years. 
Hằng has performed in 30 cải lương plays and dozens of TV shows and has worked to expand cải lương to fans. 
She won seven top prizes at national traditional theatre contests and festivals launched by the Ministry of Culture, Sports and Tourism and the Việt Nam Theatre Association. 
Hằng was invited to join the programme by her friend, theatre actress and singer Bính Thuỷ, head of Bắc Sơn Art Troupe. 
Thuỷ's troupe launched its YouTube channel featuring folk and traditional music and songs portraying southern people and their culture last year. 
The troupe has worked with Long An Province Radio & Television and An Nông Group to produce and air plays about Vietnamese culture and lifestyle.
"We hope singers, composers, theatre artists and producers can work together to expand Vietnamese music and theatre among young generations," said Thuỷ, one of the programme's founders. — VNS
Read More :
-
Reduce Hair Loss with PURA D'OR Gold Label Shampoo
-
Castor Oil Has Made a "Huge" Difference With Hair and Brow Growth
-
Excessive hair loss in men: Signs of illness that cannot be subjective
-
Dịch Vụ SEO Website ở Los Angeles, CA: đưa trang web doanh nghiệp bạn lên top Google
-
Nails Salon Sierra Madre