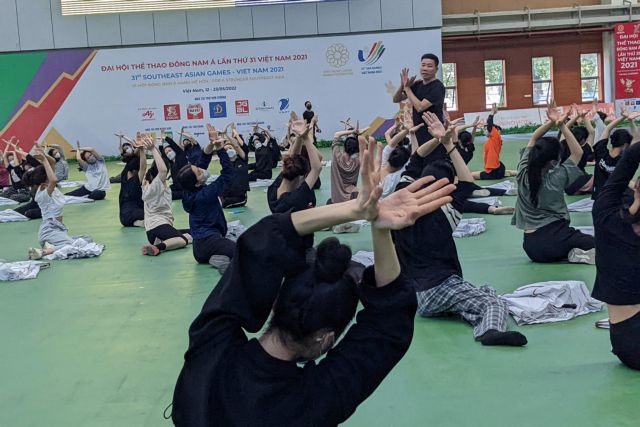 The Mỹ Đình National Stadium. — VNA/- VnExpress News Photo Minh Quyết
HÀ NỘI — Nearly 2,000 soldiers, artists, athletes, and students from 14 art and sports units have been mobilised to participate in a special art programme in the opening and closing ceremonies of the SEA Games 31, which take place in Hà Nội on May 12-23.
Members of the units organised rehearsals in five groups at five different locations. The main rehearsal began on May 4 at the Mỹ Đình National Stadium.
The opening ceremony's art programme focused on traditional cultural elements of Việt Nam and other Southeast Asian countries.
The director team has worked with the Hà Nội Department of Culture and Sports and the Việt Nam Olympic Committee to contact countries and request that they submit unique photos of their country, people, culture, and art for display at the 31st Southeast Asian Games' opening ceremony.
Logos and mascots of 40 different sports were also shown.
To promote Hà Nội as an appealing and safe venue, publicity campaigns as well as preparations for logistics, tourism, medical, and information technology services for the biggest regional sports event have been launched.
In addition, the municipal administration has put in place procedures to ensure the event's security and safety.
The Hà Nội youth union has finished recruiting and training 3,000 volunteers to assist with activities at competition venues in the city. – VnExpress News
Read More :
-
Reduce Hair Loss with PURA D'OR Gold Label Shampoo
-
Castor Oil Has Made a "Huge" Difference With Hair and Brow Growth
-
Excessive hair loss in men: Signs of illness that cannot be subjective
-
Dịch Vụ SEO Website ở Los Angeles, CA: đưa trang web doanh nghiệp bạn lên top Google