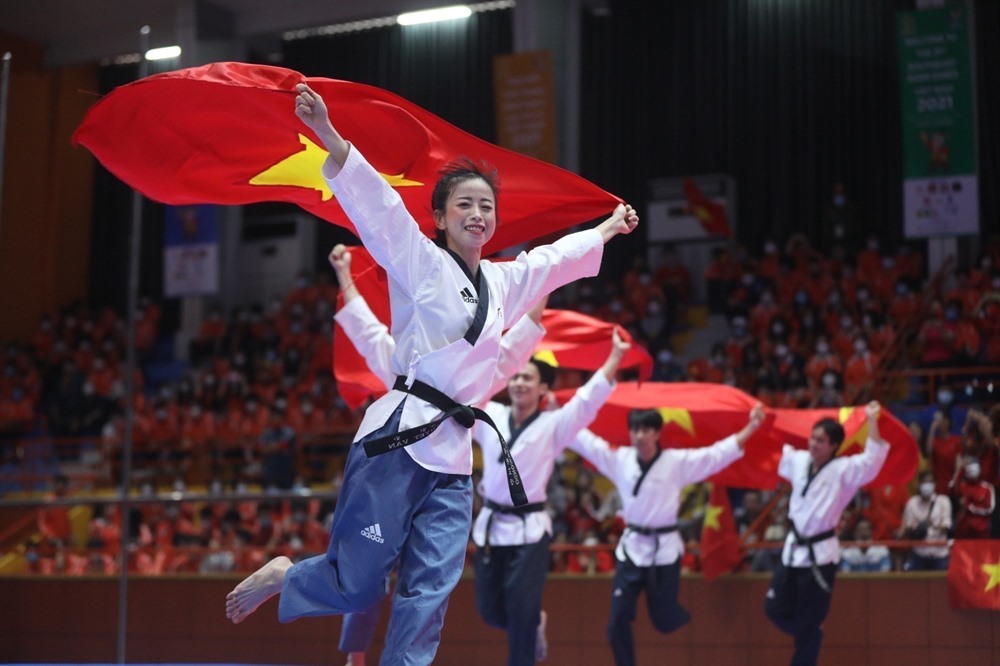 Vietnamese taekwondo artists in the performance event on May 16. The SEA Games 31 received great support from residents and international friends. VNA/VNS Photo Huy Hùng
Thanh Hà
The SEA Games 31 has been well organised and all delegations have had a successful event, despite many difficulties in the run up to the Games.
The regional biennial sporting festival came to a close with a stunning closing ceremony on May 23, ending more than two weeks of competition.
Việt Nam finished on top of the medal tally with 205 golds, leaving all other teams far behind.
Thailand took 92 golds for the second place and Indonesia finished with 69 golds, sitting in third.
A Games to remember
The Organising Committee promised all delegations a fair tournament, highlighting professional skills and sportsmanship.
It was the first time in history that a regional sports meet included almost all Olympic and Asian Games sports. All events of each sport were organised.
It was, according to deputy head of the Organising Committee Trần Đức Phấn, to create an equal competition ground for all athletes, giving everyone a chance to vie for medals.
"Việt Nam also wanted to grab high prizes but it must be from the real ability of athletes. We did not try to win at all cost, we did not use tricks to lure gold medals," said Phấn.
According to the Information and Communication Subcommittee, the Games were conducted under the cooperation of the Organising Committee, as well as Asian and regional sports federations.
The international officials and referees were invited to officiate matches together with local colleagues following clear rules, regulations and justice in the SEA Games.
Throughout 40 sports and thousands of games, there was no conflict or controversy between teams, or between teams and the organisers. but satisfaction with the preparation of the hosts.
The subcommittee also informed that delegations were given the best conditions in terms of reception, protocol, accommodation and service during their time in Việt Nam.
All of their needs were met as well as possible and they were encouraged to take part in free tours to all famous tourist attractions, and they were introduced to some of Việt Nam's specialities.
Furthermore, the Games also received great welcome and support from residents and international friends.
"We were worried that the SEA Games 31 could not be organised because of the pandemic. We met with difficulty in carrying out organising activities and were afraid of the Games without supporters.
"Luckily, the pandemic was gradually put under control and we could open doors for fans in competition venues in every host city and province.
"And as you all see, our gymnasiums were full of supporters. In some matches, including those without the Việt Nam team, we had to close the doors early because of an overload of people.
"Meanwhile, most of the Vietnamese athletes received the support of their families or relatives, even though they were from the southernmost province of Cà Mau.
"Everything showed in the success of our Games," Phấn said.
A competitive Games
Not only Việt Nam but other delegations are pleased with their performance at the SEA Games 31 too. 
Việt Nam's chief-de-mission Phấn said the final 205 gold medals of the team far exceeded the target. Among the achievements, the results in Olympic sports were really good.
The hosts grabbed 87 golds from 17 sports which will be organised at the Paris Olympics in 2024. Among them, swimming took 11, athletics 22, boxing 3 and rowing 6.
"The total gold medals of Việt Nam were also a surprise to us. When we set the target based on Việt Nam and other countries' abilities, we counted up to 185 golds. But for safety, we just announced a target of 140 because every surprise can be made," said Phấn.
"But, I am happy that our athletes did a really good job. They trained hard and compete greatly, beyond their limit for golds and records."
The Philippines passed their expectation in Hà Nội
Except for its overall championships when it hosted the SEA Games in 2005 and 2019, the Philippines breached the 50-gold mark for the first time since the 1993 edition, where it bagged 57 golds for third place.
Also barring its past two SEA Games hosting, the Philippines notched its highest finish since 2003, when it ranked fourth in the medal tally.
Malaysian Prime Minister Datuk Seri Ismail Sabri Yaakob congratulated the Malaysian contingent for achieving the target of winning 36 gold medals.
In a post on his Facebook page, he expressed his pride over the achievements of athletes.
"Congratulations! We have managed to achieve the target of 36 gold medals through the national karate squad at the Vietnam SEA Games!
"For those who did not manage to bring home medals, it's okay, we as Keluarga Malaysia always support you. To the athletes who are still fighting, let's increase our medal tally!" he said.
The Malaysian contingent achieved their 36-gold target through the men's team kumite event when they beat Indonesia 3-0 in the final.
It was a day of double joy for the national karate squad who ended their 29-year wait for glory in the men's team kumite event.
Besides earning 47 gold, 46 silver and 73 bronze medals at the Games, athletes also set five Games records, 12 national records and 34 personal-bests along the way.
Singapore National Olympic Council (SNOC) lauded the teams in swimming, bowling, fencing and pencak silat as being the best-performing sports for Team Singapore at the Games.
SNOC also singled out the athletics team for making a significant turnaround from the 2019 SEA Games to earn one gold, three silvers and seven bronze, on top of the five national records and eight personal-best performances.
"This is the sport's best performance since 1993, reflecting a well-prepared campaign," SNOC said.
They added that the wushu, jujitsu and shooting teams have also met expectations, while athletes from diving, artistic gymnastics and taekwondo continue to show signs of growth to perform up to par at the regional level.
Chef de mission S. Sinnathurai praised the athletes for performing to their best abilities even as they tried to adapt to health and safety protocols adopted by Team Singapore amid Southeast Asia's recovery from the COVID-19 pandemic.
"Our athletes displayed a very strong spirit competing against the best in the region, they showed grit and resilience amidst the conditions set upon them in a recovering pandemic environment," he said.
"Overall, I couldn't be prouder and I'm very thankful for everyone's contribution to our successful campaign here in Hà Nội.
According to Minister of Youth and Sports Zainudin Amali, Indonesia's success in being in the top three of SEA Games this year is thanks to the hard work of everyone involved, especially athletes, proving that the National Sports Grand Design (DBON) is already on the right track.
"Compared to the previous SEA Games in the Philippines, it is different even in terms of the number of athletes deployed. In the Philippines, approximately 800 athletes were sent, but for the 2021 SEA Games in Việt Nam, only a little more than half of that number of athletes left. However, thank God, the medals we won have met our expectations and we succeeded to enter the top three," he said, quoted from the official website of the Ministry of Youth and Sports.
Read More :
-
Reduce Hair Loss with PURA D'OR Gold Label Shampoo
-
Castor Oil Has Made a "Huge" Difference With Hair and Brow Growth
-
Excessive hair loss in men: Signs of illness that cannot be subjective
-
Dịch Vụ SEO Website ở Los Angeles, CA: đưa trang web doanh nghiệp bạn lên top Google