Phan Lương is the principal dancer at Việt Nam National Opera & Ballet (VNOB). He is a soloist at a new ballet Hàm Lệ Minh Châu which opens at Hà Nội Opera House on June 1. Việt Nam News reporter Nguyễn Bình spoke with Lương about his new role 
Please tell us about your part in this ballet?
It is one of the two main roles [in the love tragedy of Mỵ Châu, daughter of King An Dương Vương, and Trọng Thủy, son of Triệu Đà, the lord of a rival state, in the third century BC]. My role is Trọng Thủy — a husband makes his wife Mỵ Châu a traitor. It is the main role in the whole ballet. 
It is difficult to express the role with sophistication and changeable inner feelings such as passion in love, feeling weak to do what his father asks and also the guilt of cheating his wife. 
His father [Triệu Đà] makes him steal a magic crossbow and it leads to his wife's death. This role requires performing technical and flexible dance moves. Through body movement and facial expression I have to show the psychology of the role and how it grows from within. 
I hope that through performing experiences and my efforts help me to dance emotionally will enthral the audience. 
You have performed main roles in Giselle, Carmen and Swan Lake. What is the distinction between these classical ballets and Vietnamese ballets?
Almost all of my roles before are from the classical ballets with western stories. But Hàm Lệ Minh Châu will bring together the best of east and west. It will be a combination of ballet, contemporary dance and Vietnamese folk dance. And it will tell a Vietnamese tale. 
You are also one of the choreographers of the ballet. What position is more important to you?
I remind myself that I have to try my best in both choreography and performance. The ballet director is People's Artist Nguyễn Hồng Phong who is a celebrated choreographer. He supports me a lot in my choreography work. 
As the ballet choreographer, I need to have an overview to choreograph movements and dances meeting the demand of the script. I have performed different roles so I try to choreograph movements which suit each role in the ballet. Plus, I have chance to choreograph dances for myself. 
As the dancer, I think I'm not getting any younger so I'm not as strong as the young dancers. But I believe my experience will help me to convey feelings to the audience.  
What is the most successful role in your career?
I have had chances to dance as soloist and second role in the classical ballets and Việt Nam ballets as well. But I like the most Firebird in the ballet The Firebird by Russian composer Igor Stravinsky.
At first, the role Firebird is choreographed for a ballerina. But the dancer is injured when she is rehearsing. I was appointed to replace her. I had only three days only to rehearse and luckily I was successful in the role.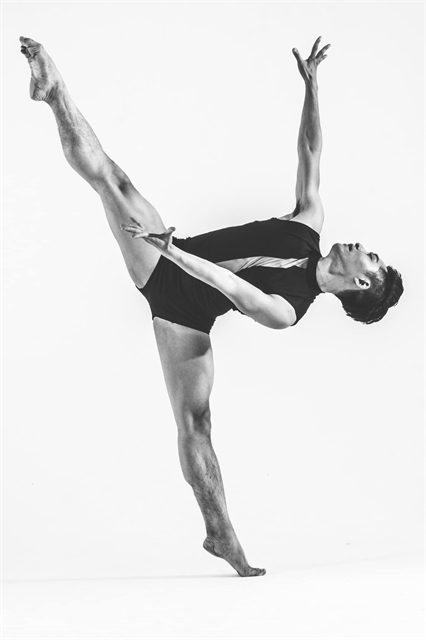 How did you make it in three days?
At that time, I had just completed my studies at the Hong Kong Academy for Performing Arts. I was in
peak condition in my career. I was appointed by two foreign directors in the main role. 
In one day, I had to learn all the dances and the second day was rehearsal with accompanied music. I was really worried because it was a full ballet and the ballerina was practising for several months. I was under a lot of pressure. My love for ballet helped me along with support from the director and choreographer. 
I still remember that veteran dancer Cao Chí Thành and I performed as a duo in the ballet The Firebird. We did not have time to train together but we still made just a few little mistakes on the stage. However, the ballet was successful thanks to our good co-ordination. We have performed the ballet many times including in Sweden. 
How do you start ballet?
I was born in Đồng Hới town in the central province of Quảng Bình. The Việt Nam Dance Academy visited the province to recruit when I was 12. My parents asked me if I want to study ballet. Actually, my homeland is very poor at that time. There are not many opportunities studying in the big city and it is not easy.
I thought that this would be a good opportunity for me. I was seen as gifted and talented. I passed two rounds more in Hà Nội and I studied at the school for seven years.
At the beginning, it was really difficult for a 12-years old boy like me to live away from home. I missed my parents and my home. It makes me so sad and I always want to cry.
Most dancers have a relatively short career on stage. How do you keep your passion alive?
First of all, we have to keep body fit and healthy and maintain training. There are different types of dance, ballet, contemporary and folklore. 
Presently, dancers have opportunities attending festivals and competitions around the world. This will make us fresh. I'm proud that I am always chosen for the main role during my studies in Hong Kong. It shows talent of Vietnamese dancers. VNS
Read More :
-
Reduce Hair Loss with PURA D'OR Gold Label Shampoo
-
Castor Oil Has Made a "Huge" Difference With Hair and Brow Growth
-
Excessive hair loss in men: Signs of illness that cannot be subjective
-
Dịch Vụ SEO Website ở Los Angeles, CA: đưa trang web doanh nghiệp bạn lên top Google