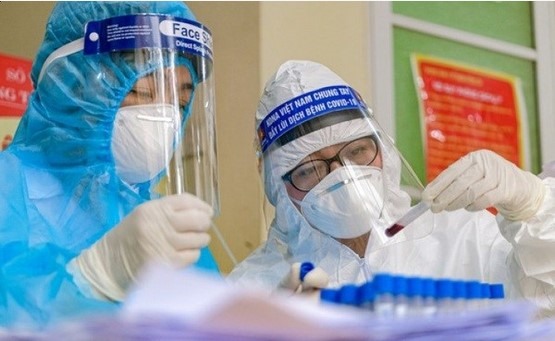 COVID-19 testing. VNA Photo
HÀ NỘI  – The SARS-CoV-2 Omicron variant BA.5 has been detected in Việt Nam and may overwhelm the variant BA.2 which is dominant in the country, according to Prof. Dr. Phan Trọng Lân, Director of the Health Ministry's Department of Preventive Medicine.
Prof. Lân said that gene sequencing results showed that the sub-variant BA.5 of Omicron has been found in the country.
"This variant may overwhelm the old sub-variants (BA.1 and BA.2)," he said.
"The intrusion is inevitable because the sub-variant has been seen in countries in Europe and the US and travel activities among countries have been allowed," he said, adding that the Ministry of Health will continue to monitor pandemic developments.
The number of COVID-19 cases has been falling with a very low ratio of infections and deaths. Patients mostly suffered Omicron's sub-variant BA.2 with mild symptoms. The majority of the cases were recorded in the northern region with about 107,000 in the last two months.
Prof. Lân attributed the results to a high vaccination ratio and effective activities to protect high-risk groups.
He said initial research showed the Omicron sub-lineages BA.4 and BA.5 spread faster than BA1 and BA.2. There is no specific evidence of the new sub-variants' virulence, but some studies have indicated that there is an aggravation in the African region.
The World Health Organisation has warned that due to the new variants of SARS-CoV-2, countries need to maintain measures such as vaccination and monitoring.
The Health Ministry called on people, especially those at high risk of infection, to be fully vaccinated against COVID-19. VNS
Read More :
-
Reduce Hair Loss with PURA D'OR Gold Label Shampoo
-
Castor Oil Has Made a "Huge" Difference With Hair and Brow Growth
-
Excessive hair loss in men: Signs of illness that cannot be subjective
-
Dịch Vụ SEO Website ở Los Angeles, CA: đưa trang web doanh nghiệp bạn lên top Google