Việt Nam win beach handball gold
Pencak Silat artists begin gold hunt
Trang wins Việt Nam's first gold at SEA Games
VN women's team ready to basket medal
Vietnamese kickboxers get off to a good start ​​​​​​​
Thanh Hà
HÀ NỘI — SEA Games 31 is looking to be a great stage for Malaysian divers who won two more golds on Tuesday at the Mỹ Đình Water Sports Palace.
Hanis Nazirul Jayasurya and Jelson Jabilin claimed the team's sixth gold medal after winning the men's synchronised 10m platform final, leaving the other teams far behind in points.
After six jumps, the duo amass 345.93 points, setting a 23.43 point gap to their nearest challengers, Jonathan Chan Fan Keng and Max Lee Shien Oon of Singapore (322.5 points) in second place.
Vietnamese duo Nguyễn Quang Đạt and Đặng Hoàng Tú came in third. The 15-year-old duo secured 251.46 points. It was their first time competing in a regional sports event.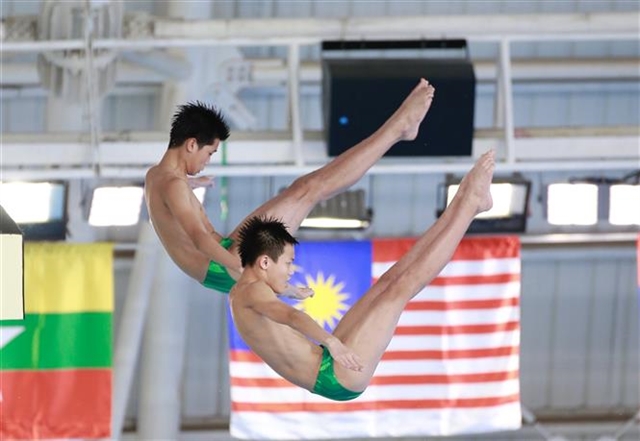 "There are three 15-year-old athletes in my team. They are still young, but we pick them for the tournament to get familiar with the elite sports environment, taste the competition pressure and sharpen their technique," said coach Hoàng Thanh Trà, Việt Nam's diving gold medallist at the 2003 SEA Games.
It was the first time Việt Nam won a medal in this category after 15 years. Duo Vũ Anh Duy and Nguyễn Minh Sang secured a silver medal for Việt Nam at the 2007 SEA Games in Thailand.
Earlier, Ng Yan Yee bagged Malaysia's fifth gold, in the women's 3m individual springboard final.
Her perfect jumps brought her 270.6 points. She was followed by teammate Ong Ker Ying who earned 242.4 points, and Fong Kay Yian of Singapore, who took 230.15 points.
It was Yan Yee's second gold after winning the women's synchronised 3m final with debutant Ong on May 9.
The 28-year-old was a rhythmic gymnast, but her talent was spotted by the national coach, Yang Zhuliang, due to her "physical build being good for diving."
She was a Malaysian competitor at the 2012 Olympics in London, 2016 Olympics in Rio de Janeiro and 2020 Olympics in Tokyo.
Việt Nam sent two representatives to this event, but none succeeded.
Mai Hồng Hạnh was fifth with 212.6 points, and Ngô Phương Mai, who pocketed one silver and one bronze in previous events, came sixth with 199.6 points.
Mai failed to defend the third place she won at the previous SEA Games in the Philippines in 2019.
For the hosts, yesterday's bronze may help the diving team do a better job than planned. The divers have targeted one silver and one bronze.
On the last day of the competition today, athletes will compete in the men's individual 3m springboard and women's synchronised 10m platform events.
The Vietnamese representatives are Đinh Anh Tuấn and Nguyễn Tùng Dương in the former event and Bùi Thị Hồng Giang and Mai Hồng Hạnh in the latter.
Malaysia is targeting a clean sweep of eight gold medals in Hà Nội to repeat their success of 2019 in the Philippines, which saw them taking all four gold medals in the competition.
Malaysia has collected six golds, leading the overall medal tally. Việt Nam is placed second with four golds. – VnExpress News
Read More :
-
Reduce Hair Loss with PURA D'OR Gold Label Shampoo
-
Castor Oil Has Made a "Huge" Difference With Hair and Brow Growth
-
Excessive hair loss in men: Signs of illness that cannot be subjective
-
Dịch Vụ SEO Website ở Los Angeles, CA: đưa trang web doanh nghiệp bạn lên top Google