Thais dominate women's table tennis
Loan wins gold in standard Chinese chess
Tiến Minh makes men's badminton semi
Việt Nam win two golds in blitz chess
VN, Thailand, Indonesia win canoe golds
Thanh Hà
HÀ NỘI — Hoàng Thị Duyên was the star of the weightlifting on May 20 as she won a gold medal and set up a new Games record.
The Vietnamese was the defending champion of the women's U59kg class, vying against five other athletes.
Despite an injury, the Tokyo Olympian lifted 96kg in her third attempt in the snatch, the new record in the regional sports meet.
The record is 1kg more than the previous one Duyên set in the Games in the Philippines in 2019.
In the clean and jerk, Duyên made it 108kg in the first attempt and ensured top position.
In the later attempt, Duyên tried 116kg to make a new record but could not manage it.
She nevertheless took the gold.
"My hip injury prevented me from lifting better. My result is not as good as in the 2019 Games. I am not happy with today's performance," Duyên said.
"After the SEA Games, my first act is to solve my hip problem so that I will be back stronger in the future."
Duyên was followed by Sirikaew Pimsiri of Thailand, who lifted 196kg (86kg snatch and 110kg in clean and jerk) and Myanmar's Ta Bor Yar Naw, who made 191kg (85 kg snatch and 106kg in clean and jerk).
Weightlifting queen Hidilyn Diaz continued her dominance, ruling the women's U55kg event and winning gold.
Diaz, the Philippines' first Olympic gold medalist, made a total lift of 206kg, 92kg in snatch and 114kg in clean and jerk to get her second straight SEA Games gold after winning in 2019 in Manila.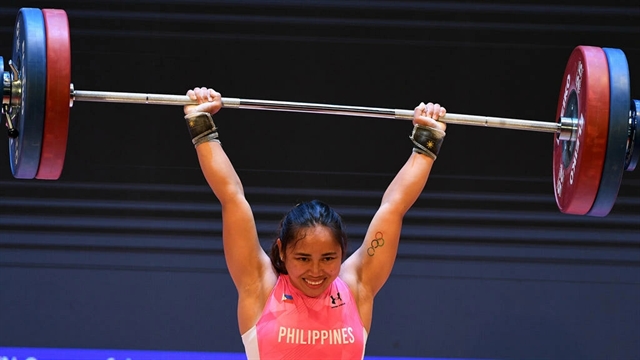 She bested Thailand's Sanikun Tanasan, who settled for a silver with a SEA Games-record snatch of 93kg but only managed 110kg in clean and jerk for 203kg.
Indonesia's Natasya Beteyob claimed the bronze with 188kg to edge out hometown bet Nguyễn Thu Hiền.
Tanasan is an Olympic champion who won the gold in the 2016 Rio Games in a lighter weight category.
"Even though I thought I was not that good, I'm happy," said Diaz.
"I'm happy to be back again and prepare for Paris 2024. This is the beginning of my journey towards Paris," she added of what would be her fifth Olympics.
Diaz's life has been turned upside down since making history for the Philippines at last summer's pandemic-delayed Tokyo Olympics. She admitted that, a bit like after winning silver at Rio 2016, she had gone through pain.
"A lot of pain because I got so big, I got so busy, I didn't have training for many days and months, and for us weightlifters, we need to train six to nine times a week, and I was not able to do it after winning the gold," said Diaz who has the Olympic rings tattooed on her left bicep.
"I'm happy to be back again. To be back and train, and you know, to compete again." 
Flagship lifter Eko Yuli Irawan added to Indonesia's medal tally a gold on May 20 afternoon.
Eko, 32, occupied the highest podium in the men's 61kg class, recording 290kg.
In the snatch force, the silver medal winner of the Olympics made 135kg. As for the clean and jerk, he succeeded with a lift of 155kg.
Malaysian Muhamad Azil Bidin won the silver with 287kg, and the host lifter Nguyễn Ngọc Trung (286kg) bagged bronze.
In the men's 67kg, Witsanu Chantri of Thailand grabbed gold with a lift of 312kg (140kg snatch and 172kg in clean and jerk).
Mohammad Yasi of Indonesia (308kg) and Vietnamese Đinh Xuân Hoàng (306kg) came second and third, respectively. — VNS
Read More :
-
Reduce Hair Loss with PURA D'OR Gold Label Shampoo
-
Castor Oil Has Made a "Huge" Difference With Hair and Brow Growth
-
Excessive hair loss in men: Signs of illness that cannot be subjective
-
Dịch Vụ SEO Website ở Los Angeles, CA: đưa trang web doanh nghiệp bạn lên top Google