SEA Games
Thanh Hà
HÀ NỘI — Nguyễn Thị Thanh Nhi is going to take part in her first Southeast Asian (SEA) Games. The competition will be memorable for her as she will compete on home ground as the Games returns to Việt Nam for the second time.
Nhi is a new face of the national team but is expected to top the podium after being a phenomenon at this year's National Top Archery Champions.
At the tournament, the 21-year-old was against many strong rivals, including Tokyo Olympian Đỗ Thị Ánh Nguyệt in the recurve disciplines.
But these strong competitors could not scare Nhi, and the Huế City-born athlete grabbed top positions in the five categories of the 30m, 50m, 60m, 70m, and all-round recurve, and two silvers in other classes.
"It is the first time that an athlete has made such incredible results," said Phan Trọng Quân, a member of the organising board. "No one has grabbed five individual titles in one tournament like Nhi before."
Her successful performance gave coaches no choice but to pick her for the national team.
Newbie in a new sport
As the youngest of a five-child family, Nhi has been pampered by her parents and siblings. She was expected to become a regular civil servant like her parents.
The turning point was when the 14-year-old was in a fitness lesson at school and was asked if she wanted to try archery, a new sport in Huế in 2015.
"I did not know what it was. But the scout chose me. I thought 'it was a strange sport, but why not,'" Nhi said. "I thought the bow was like what I had seen in cartoons. I just picked it up and shot."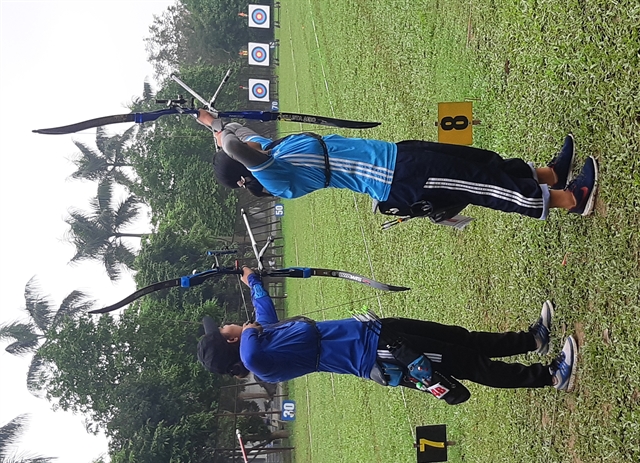 But things were not easy.
The first days of anything are always tricky. The trainers, equipment and facilities were virtually at zero.
"We have to borrow everything from other sports and use self-made bows and arrows to practise. Two years later, when my team won the first national gold medal, we were invested with three bows," said the head of the Thừa Thiên Huế Province's archery department, Lại Đăng Quang, who used to be a tennis coach.
But Nhi was not allowed to practise with those bows, which were for her senior teammates. Nhi had to use a rubber band.
Week after week, month after month, Nhi picked it up, aimed, and put it down.
"Doing the same action for several days is okay, but for months it becomes so boring. But both coaches and athletes encouraged each other to overcome that feeling and keep working," said Nhi, who got her own bow when some senior athletes got bored and quit.
Three years after the first days, Nhi earned her first medal, finishing third at the National Sports Games in 2018.
A year later, she was given a VNĐ100 million, which helped her win the first national gold. It also played a crucial role in her success today. 
"My first gold was my milestone. I was shaking because of happiness. I had got my highest place ever," Nhi said. 
She often nearly quit due to tiredness and exhaustion.
"But my parents did not agree and encouraged me, saying that it was my choice, so I had to follow and grab success," she said.
Four months after the first gold, Nhi stepped to a higher level as she broke the national record, which was held by veteran Nguyễn Thị Hương for 12 years. Her new record of 352 points in the 30m recurve was one point more than the old one.
SEA Games debut
The five-gold breakthrough results this year were a push for Nhi to compete in her first SEA Games and second international tournament.
"My two targets this year are to take my college certificate and play well in the SEA Games," Nhi said.
Nhi is one of 16 members of the archery team. They are targeting two to four golds in Hà Nội.
"It is my first SEA Games, and I will compete on home soil. I have felt a little pressure which is a con in archery, as it requires a strong mind and iron mentality," Nhi said. 
"But I think that seven medals at the national tournament will be a strong force for me. It will help me feel more confident."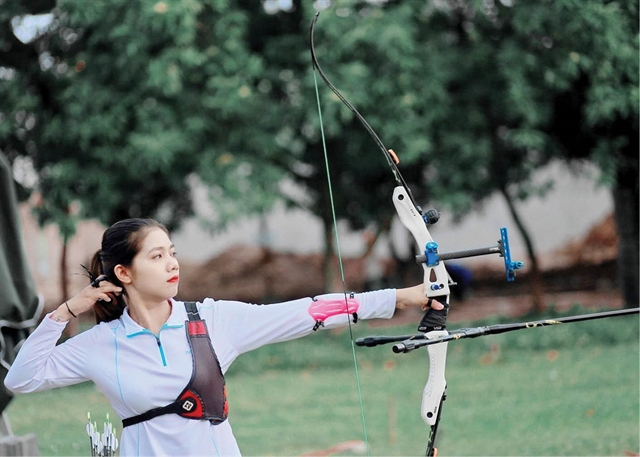 In the upcoming Games, Nhi will compete against big rivals from Indonesia, Malaysia and Myanmar, but her biggest opponent is herself.
"They are strong, but anyone can be beaten. But the strongest one is me. If I don't work hard and prepare well, I cannot complete my task, she said.
"I have not set any targets for myself but will try my best to win. It would be great if I could win," said Nhi, who will compete in the individual and team 70m recurve in this Games.
"I am lucky because my family strongly support me. They follow, encourage and comfort me, win or lose, and ask me to be confident," Nhi said.
"I told myself that on choosing a sport, I have to move forward. Only by going ahead can I find victory." – VnExpress News
Read More :
-
Reduce Hair Loss with PURA D'OR Gold Label Shampoo
-
Castor Oil Has Made a "Huge" Difference With Hair and Brow Growth
-
Excessive hair loss in men: Signs of illness that cannot be subjective
-
Dịch Vụ SEO Website ở Los Angeles, CA: đưa trang web doanh nghiệp bạn lên top Google