Lê Hương
The central province of Thanh Hóa is not only famous for its unique stone Hồ Citadel, a world cultural heritage site, but also for various speciality foods.
Báo ginseng is a rare medicine, which was used as a gift to kings. Ginseng can be used for drinks, as a kind of medicine and as a nutritious ingredient in cooking.
Báo ginseng was quite popular under Hồ Dynasty (1400-1407) when Hồ Quý Ly directed to build Tây Đô (Hồ) Citadel. At first, the citadel was built at a very slow speed. Many sections were built and collapsed.
Hồ Quý Ly himself went to examine the situation. He saw a group of builders working days and nights without any signs of fatigue. Their section was built faster and more stable than others.
The builders came from Biện Thượng Village, Vĩnh Hùng Commune, Vĩnh Ninh District. They were strong as they drank a kind of ginseng got from Báo Mountain. Hồ Quý Ly ordered his medical mandarins to check the ginseng. Hồ Quý Ly drank it every day and felt stronger with a fresher mind.
He formed a team who specialised in hunting for the valuable ginseng to supply drinks for the builders. The citadel was then built faster and it took only three months to finish.
The ginseng from Báo Mountain then became a popular drink and valuable medicine among the royal members.
The local soil is suitable for the development of this kind of ginseng, which has been nicknamed in historical documents "The First Ginseng".
A book titled Thanh Hóa Tỉnh, Vĩnh Lộc Huyện Chí (Thanh Hóa Province, Vĩnh Lộc District) by Lưu Công Đạo written in the 15th year of Gia Long Reign said: There are various kinds of ginseng in the country. But only ginseng from the Biện Thượng region [in today's Thanh Hóa] has more significant effects than that from other localities. Drinking ginseng from Báo Mountain results in extraordinary effects…"
Another book titled Đồng Khánh Địa Dư Chí (Đồng Khánh Geology Records) compiled by Nguyễn dynasty's historians in 1886 said: "In Đa Bút and Biện Thượng mountains, there is a kind of ginseng called Báo ginseng, which is small in form, bitter in taste, cool in character, which can be used for heat relieving.
Today's delicacy
Cuisine expert Lê Văn Khánh has introduced duck raised in Cổ Lũng region stewed with Báo ginseng.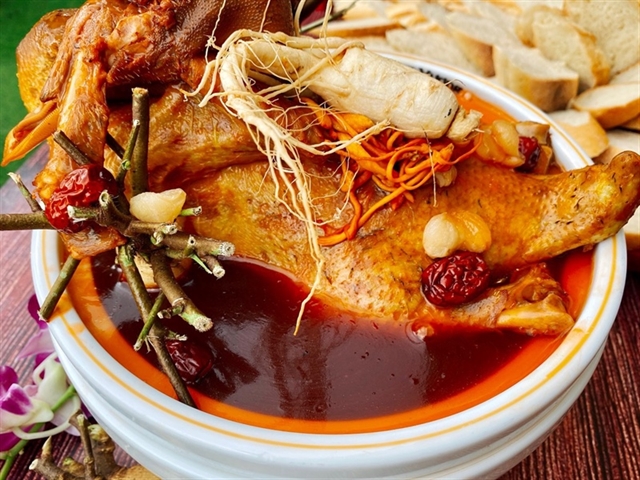 "As a general head chef of the National Convention Centre for many years, I realised that visitors often want to try traditional flavours, natural ingredients and try regional specialities," he said.
Cổ Lũng duck is a species that has been raised for a long time in Bá Thước District, which has a small bone frame. The meat is lean and not fatty, greasy or smelly like other kinds of duck.
"The duck has high-quality meat as they wander around streamlines to seek natural food," he explained. "The clean water running from the karst mountains has lots of calcium. Cổ Lũng ducks prefer a clean environment. They have good capabilities to fight against diseases.
Khánh said he has no secret in the stew dish, just good and fresh local ingredients.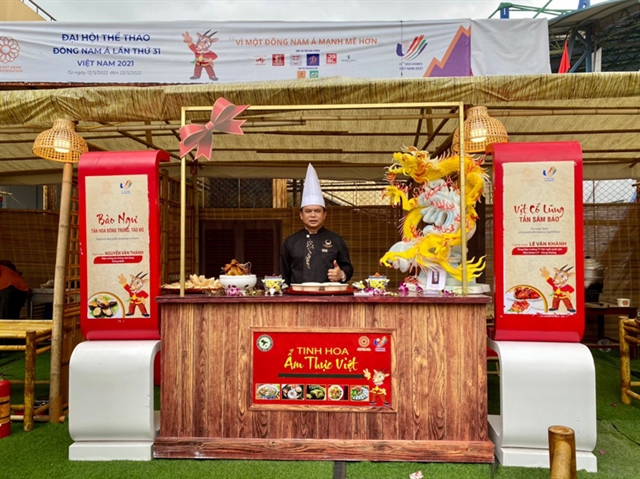 His dish has recently been offered to guests at many events, including at Thiên Trường Stadium in Nam Định Province for the SEA Games 31.
"I found here many delicacies from Hà Nội, Huế, Nam Định and other localities," said visitor Nguyễn Văn Lung from Ninh Bình. "But I was impressed most by Cổ Lũng duck stew with Báo ginseng, a traditional dish of Thanh Hóa Province."
Lung said the broth of the stew is sweet and nutritious as a good combination of duck meat and ginseng with a cool character.
He added that ginseng contains various kinds of compounds and acid amino as well as minerals good for health.
The duck meat is soft but still tender while absorbing the essence of ginseng, he said.
Khánh said cuisine tourism has more and more popular in many countries.
"During tours, festivals and cultural events, cuisine experts advertise local delicacies and bring fresh feelings to visitors on the journeys," he said. "Cổ Lũng duck stew with Báo ginseng can be an 'ambassador' for Thanh Hóa's tourism, which helps tourists understand more about the history, culture and cuisine art of the locality."
Khánh said he uses some 300gram of fresh ginseng and some 100gram of red dried apple for a duck. The ingredients should be stewed at a small temperature after being added with the necessary spices. The dish should be served hot for the best taste together with fresh vermicelli or bread.
Bùi Văn Sâm, chairman of Cổ Lũng Commune's People's Committee, in Bá Thước District said the duck genre has been a kind of poultry with an advantage in the commune and other neighbouring communes.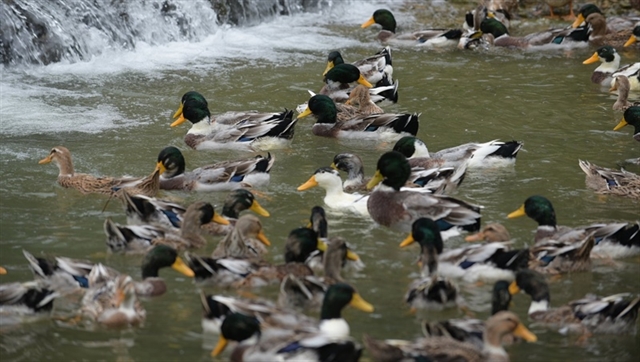 There are now some 500 households raising the duck genre in the commune, 25 of whom have joined a co-operative to raise ducks in strict regulations to secure the breed with high quality of mean and fewer diseases.
"Now the duck product has not been enough to meet the increasing demand of the market," he said. "We are proposing the district authorities enhance the advertising value of this duck genre to invite investors in local duck raising models.
The local authorities have also planned for a duck-raising model following VietGAP standards to turn the product into an OCOP product to reach further markets. VNS
Read More :
-
Reduce Hair Loss with PURA D'OR Gold Label Shampoo
-
Castor Oil Has Made a "Huge" Difference With Hair and Brow Growth
-
Excessive hair loss in men: Signs of illness that cannot be subjective
-
Dịch Vụ SEO Website ở Los Angeles, CA: đưa trang web doanh nghiệp bạn lên top Google